Retailers bank on promotions to drive people into shops in the final few days.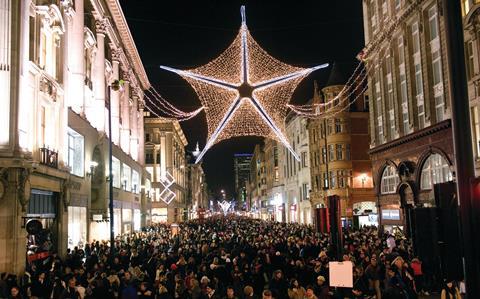 Retailers face a nail-biting final week's trading as consumers hold off spending until the last minute.
Supergroup boss Julian Dunkerton said "all is still to play for" and that people were buying later than last year.
Clintons marketing director Tim Fairs said it was preparing for a last minute surge next week.
Peak trading has also come later for etailers. Littlewoods owner Shop Direct boss Mark Newton-Jones said the group's busiest week fell last week, seven days later than last year. He expects Christmas sales will be flat or "slightly up" on last year.
As the tense wait for the Christmas shopping peak continues many retailers have resorted to slashing prices to woo consumers.
Poundland chief executive Jim McCarthy believes savvy shoppers are holding out in the hope to grab last-minute deals, but anticipates his sales will be up on last year.
He said: "People are aware that if they leave it later to buy goods then retailers will put out more offers to get their business."
The bulk of retailers have yielded, with 66% on Sale or advertising promotions, compared with 55% last year, according to a PwC survey. Discounting levels are the highest since 2008 when a spate of retailers hit the buffers over the period amid a price-cutting frenzy.
PwC UK retail and consumer lead Mark Hudson said: "The traditional game of chicken between retailers and consumers is hotting up."
On the back of its Christmas Spectacular event that kicked of festive discounting in mid-November, department store Debenhams has followed up with a Christmas Mega Deal promotion running from last Monday through to this Sunday with some items at half price.
Retailers have been going to lengths to stimulate spend. Argos opened Christmas pop-up shops in London train stations and John Lewis launched an iPhone app in time for the last-minute rush.
Electricals retailer Dixons is offering money-off vouchers, redeemable next year to customers spending through to Christmas Eve.
B&Q launched its biggest winter Sale yesterday. The £60m event will run until March, a month longer than normal. Chief executive Martyn Phillips said it was the most aggressive and transparent yet.
Retailers hope for a late Christmas surge after footfall for the week ending December 11 dropped by 2.3%, according to the BRC and data analyst Springboard.
BRC director-general Stephen Robertson said: "This drop shows festive sales are still on a knife edge."
Aurora chief executive Mike Shearwood said trading was "challenging with footfall down in the run-up to peak, however online sales have seen a significant increase."
Shearwood expects strong like-for-like growth, however, against weak comparatives due to heavy snow last year.