A Majestic budget, to queue or not to queue at the Co-op and Asda's boozy mince pie saga.
A Majestic budget
The Budget might not have delivered the gift of business rates reform that retailers were hoping for, but at least Majestic Wine boss Rowan Gormley was on Philip Hammond's nice list.
The South African entrepreneur and wine connoisseur was delighted with the Chancellor's decision to freeze tax on wine, beer and spirits.
"Father Christmas Phil delivered a last minute present for British wine lovers with the reprieve on the duty," Gormley joked.
"I think it would have been a bit Grinchy to have hit people just before Christmas."
A Tory Government? Grinchy? Surely not.
To queue or not to queue…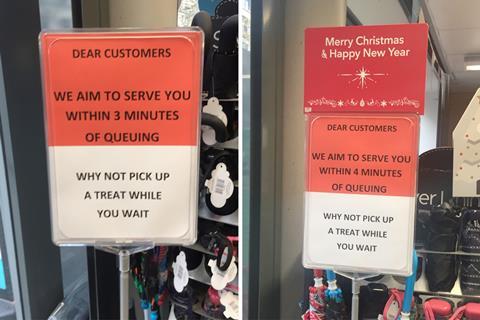 The Co-op near Retail Week headquarters gives shoppers a clear idea of how long they may have to queue, but what is the tipping point that dissuades shoppers from standing in line?
A couple of weeks ago shoppers could expect to wait up until three minutes – good expectation management. However, the waiting time has now crept up to four minutes.
Does that seem a little bit too long to flag up, causing potential customers to turnaround and leave?
What is a reasonable time to expect to wait in a c-store, and which retailer gets through the queues the fastest?
Asda turns Christmas humbug over mince pie palaver
Asda has been accused of stealing Christmas from some of its younger shoppers by not allowing them to sample in-store festive treats.
Some customers wanting to try the supermarkets' boozy mince pies – which contain 4% brandy and 1.5% ruby port – have been left disappointed as Asda demanded ID before indulging in any Christmas spirit whatsoever.
"For obvious reasons products containing liquid alcohol are only offered to customers over the age of 18," an Asda spokesperson said, before adding sheepishly, "However, mince pies are a family staple and would usually be made available to all – but, we would never criticise an individual for trying to do the right thing when presented with a customer who's lucky enough to look younger than their years."
Perhaps it's for the best though. Asda has got itself into sticky situations before with over enthusiastic customers – the memories of Black Friday 2014 won't fade fast.