McColl's issues a profit warning and Ted Baker staff launch petition against "forced hugging" by its founder and chief executive.
12.24pm Asos appoints Holland to new chief operating officer role
Asos has promoted Mark Holland to the newly created role of chief operating officer.
Holland has worked at the fashion etailer for six years, most recently as supply chain director.
Asos boss Nick Beighton said: "Mark's well-deserved appointment is a reflection of the significant contribution he has made to the business over the last six years and the skills he possesses, which will be invaluable to us as we position ourselves for further growth."
12.11pm Ted Baker shares sink amid "forced hugging" claims
Shares in Ted Baker have slumped 13% this morning after the business said it was to investigate claims of "forced hugging" by its founder and boss Ray Kelvin.
It comes after an employee from the fashion retailer and brand started a petition on workplace website Organise, demanding that Kelvin's alleged inappropriate behaviour is addressed.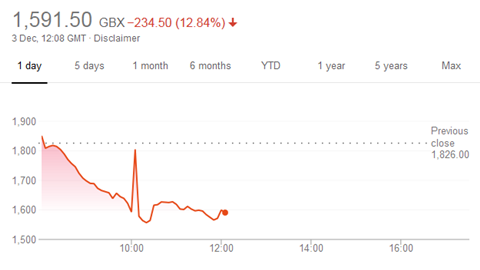 7.15am McColl's warns on profits due to Palmer & Harvey collapse
The convenience specialist' boss Jonathan Miller said the demise of Palmer & Harvey in the first half of its financial year led to "unprecedented supply chain disruption".
As a result, as well as strong cigarette sales causing a lower than anticipated conversion of sales to profits, the retail group now expects its full-year EBITDA to be approximately £35m.
6.55am Rapha profits skid into the red as sales fall
The cycling specialist, which was acquired by Walmart heirs Steuart and Tom Walton's private equity firm RZC Investments in August 2017, has recorded a £20m pre-tax loss for the six months to January 2018.
According to The Daily Telegraph, the retailer's revenue for the period was £42.2m against £67.1m and pre-tax profits of £1.4m under its previous owners in the year to January 2017.
6.45am Ted Baker staff launch petition against "forced hugging"
An employee of the fashion retailer has launched a petition accusing its founder and chief executive Ray Kelvin of inappropriate comments and behaviour, as well as enforcing hugs, which it demands be tackled.
The petition was launched on workplace website Organise and has gained over 2,000 signatures.
Ted Baker said the allegations in the petition were "at odds with the values of our business and those of our CEO" and the retailer would "ensure a thorough independent investigation is carried out".