US department store Macy's is offering British shoppers a special Black Friday promotional code and a flat fee on shipping until December 18.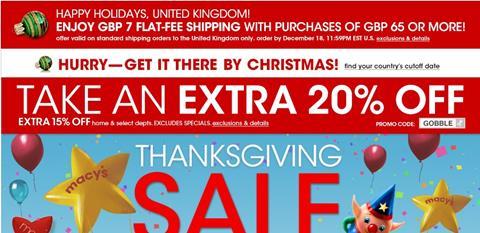 Capitalising on a growing trend of British retailers taking part in the traditional US Thanksgiving rush, Macy's is offering a 20% discount to UK shoppers and a flat fee on all UK orders on baskets over £65. Items will still be subject to customs and shipping costs.
Macy's has been trading online in the UK since June 2011 through Macys.com and Bloomingdales.com, which it also owns.
The department store retailer is following the footsteps of etail giant Amazon, which kicked off the trend of post-Thanksgiving discounts for British shoppers in 2010.
The trend has snowballed since, with UK retailers increasingly offering Black Friday promotions both online and in stores.