Cyber Monday has been superseded by Black Friday after shoppers chose to snap up Christmas bargains earlier this year.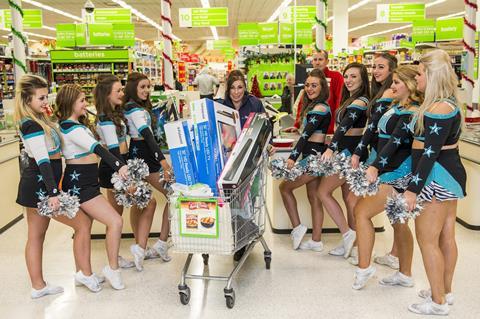 Asda, John Lewis, Shop Direct and Ao.com all reported stronger trading on Black Friday compared with Cyber Monday, which has for several years been the biggest day for online transactions in the run-up to Christmas.
Experian and IMRG estimate that £810m was spent on Black Friday, up on initial forecasts of £555.5m and more than the £649.6m that it forecast had been spent on Cyber Monday, which fell yesterday.
IBM data showed that on Black Friday the average order value was up 1.4% to £88.86 compared with last year. On Cyber Monday the average order value fell 6.3% on last year.
Shop Direct said Black Friday surpassed Cyber Monday, but that the latter was still a success, with sales up 19.7% on Very.co.uk compared to last year.
The etail group said it smashed its sales targets on Black Friday, with orders at Very.co.uk jumping 134% compared to the same day last year.
Jon Owen, retail brands and trading director at Shop Direct, said: "If Black Friday came of age last year, it was turbo-charged this year. We were blown away by its success – it has definitely secured its place as a staple of the UK retail calendar."
John Lewis revealed this morning that Black Friday had driven its biggest ever sales week in its 150-year history, but said Cyber Monday was not on the same level as a few years ago.
Electricals etailer Ao.com's UK retail director John Coulter said: "We saw record traffic and sales levels on the Ao.com site and our sales were up dramatically year on year on Black Friday.
"Our Cyber Monday trading figures didn't beat that of Black Friday but we did see more traffic in the evening on Cyber Monday than on Black Friday."
Focus on Black Friday
Asda and Sainsbury's said they focused their efforts on Black Friday and did not launch any Cyber Monday deals at all, in contrast with last year.
IMRG chief information officer Tina Spooner said that the "general view among retailers is that Friday was a much bigger day than Monday this year".
Maplin reported its best ever online sales day on Black Friday, with web sales increasing 70% on a like-for-like basis, store sales grew 30% on a like-for-like basis.
"Online sales were driven by traffic to the site across the whole week and across all categories," said chief executive John Cleland.
"But it's not simply substitution of store sales – our click-and-collect service has been particularly popular and our store sales are up over 30% – boosted by the technological advice our store colleagues give, so that our customers get the best solution for their tech needs."
At Trinity Leeds footfall was up 29% on Black Friday as the shopping centre said shoppers took advantage of its physical shops and its digital offer, whcih includes wi-fi.
For many retailers, Black Friday kicked off a four-day sales extravaganza. Young fashion retailer Boohoo.com said that it offered flash sales of up to 30% off selected items between Friday and Monday and had "strong sales throughout".
Meanwhile, Marks & Spencer said that it offered four days of promotions bookended by Black Friday and Cyber Monday with no specific focus on either day.
But some retailers were criticised for not handling the crowds adequately. Tesco came under fire from the Greater Manchester Police for not organising enough security. Some of its stores had to call out police as angry scuffles broke out over wide screen TVs and other products.