Retail's latest batch of Christmas ads have both riled and delighted TV viewers in equal measure. Rebecca Thomson and Richard Huntington sort the crackers from the turkeys.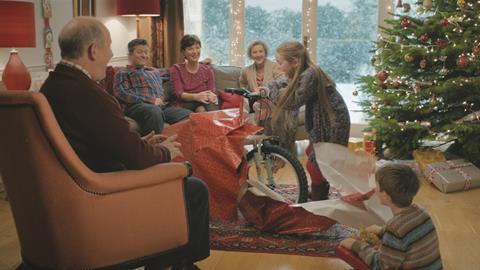 This year's Christmas ads have generated a fair amount of debate. From The Guardian dismissing them as "a bit low rent" to The Daily Mail deriding them as "cheesier than a lump of festive stilton", it hasn't been a quiet month for many retailers' advertising departments.
Littlewoods' offer led to 450 complaints to the Advertising Standards Authority after seemingly questioning the existence of Father Christmas in an ad that would be watched by children.
What's clear is that there's a heightened awareness surrounding retail advertising this year that may have something to do with the ever-growing adoption of social media, says director of strategy at advertising agency Saatchi & Saatchi Richard Huntington. "Christmas ads have always been important and talked about, but there's a double whammy this year of how retailers are responding to the recession, plus use of social media, which means advertising gets talked about more than it used to."
It's the time of year when retailers get to play the same attention-grabbing game as some other brands do all year, Huntington says. The rest of the time, retail ads are rarely hotly debated. And despite dour predictions of a difficult Christmas, it's retail's moment to shine – but it is only the sales figures in January that will give much indication of each advert's success.
Halfords
The premise A little girl is given a bike for Christmas, loves it, and is shown enjoying it for the rest of the year.
Richard's verdict "This is a wonderful surprise, a genuinely good advert. It's built around a nice insight and it communicates a value message. Instead of saying 'you're going to have a brilliant Christmas without it costing too much' it flips it on its head and suggests buying presents that will last a lifetime – it says spend money, but spend it wisely. The execution is really well done, and of all the ads this Christmas I would give top marks to Halfords.
"From this advert I'm a bit stumped as to what other products it sells but Christmas is a good time for bikes and it's a reminder that they're a good investment as you have them for years."
Marks & Spencer
The premise After years of adverts featuring Twiggy and co, Marks & Spencer launched its much-discussed X Factor campaign. The finalists were filmed singing the Disney hit When You Wish Upon a Star in between clips featuring M&S products, and one finalist was edited out each week as they left the show.
Richard's verdict "This is ambitious, but it's a bit of a disaster, which is a shame because there's a woeful lack of ambition in many of the other Christmas offerings. Part of me thinks good on them for trying something with a little bit more ambition. It's a really exciting piece of work, but it's not been a brilliant success. It's not very good in the execution and there was the problem of one contestant getting kicked off. X Factor is one of the most important and exciting media properties in Britain but is it right for M&S?
"From a brand match point of view it doesn't feel right, but from a creative ambition point of view I would have got excited about that idea. I have respect for someone doing something different and I really hope it won't put them off doing something different next year. And if M&S has a fantastic Christmas it will have the last laugh."
Tesco
The premise The supermarket giant emphasises its UK-wide appeal by presenting Christmas scenes using location-based alliteration such as "keeping Manchester in mince pies and Birmingham in brussels". The focus is on price, the message being that Tesco will help customers keep Christmas special without spending too much.
Richard's verdict "One of the things that dogs Christmas advertising is a lack of insight. It's not very thoughtful as a piece of advertising. I wouldn't have been excited about that idea and it's a very standard Christmas ad. It's an evolution of 'Every Little Helps' at a time when customers need a lot of help, so at Christmas Tesco is going to help keep it special. It feels like a sensible approach, but there's a lack of ambition. It has moved beyond the family used in last year's ads, and what Tesco loses with this is attribution. The great thing about a celeb or a couple is we know immediately it's a Tesco ad – that has been sacrificed. The trouble is that adverts then become undifferentiated.
I would argue that times of hardship are the times to be more ambitious."
Sainsbury's
The premise This is Jamie Oliver's final ad for Sainsbury's, and the grocer has given it a pantomime theme. The TV chef whips up Christmas food for Snow White, the ugly sisters and other characters.
Richard's verdict "For Jamie's swansong it's a shame Sainsbury's is making sure he goes out with a whimper instead of a bang. Put Jason Donovan in it and it would have been an Iceland ad. Maybe the advert last year [Sainsbury's ran an ad encouraging towns and villages to compete to win the perfect Christmas, and filmed the results on Seabank Road in The Wirral] put it off doing anything interesting. I wonder whether Sainsbury's has lost its bottle. The grocer used to be the middle classes' favourite supermarket and now Waitrose is competing to take that mantle. It doesn't look like a confident retailer this Christmas."
Morrisons
The premise Freddie Flintoff gives us a run-down of what's available at Morrisons this Christmas, with a bit of Bruce Forsyth thrown in at the end for good measure.
Richard's verdict "Freddie Flintoff feels like a really random choice. Part of me wonders if everyone else had been bagged, but maybe he goes down well with the Morrisons' audience. I think using Bruce all the way through would have been a better choice.
"Morrisons has a brand that is utterly adored by the over-55s, hence all the children in the advert, and I suspect lots of people look at this advert and say 'that's my idea of a Christmas ad'. It's properly festive. But I genuinely don't understand the 'if you build it, people will come' line. Maybe it's corporate wishful thinking on the part of the management. If you're going to do a painting-by-numbers Christmas ad it's a very well executed one, and I bet Morrisons' customers love it and think it's funny."
Iceland
The premise Former X Factor contestant Stacey Solomon is driving home for Christmas and is greeted by her family and platters of Iceland food when she gets there.
Richard's verdict "I have always felt that of all the retailers Iceland understands its audience the best. It's not a gobby retailer – the conversation Iceland has with its customer base is subtle, partly because Malcolm Walker is an instinctive retailer. It's quite a modern ad because it feels authentic. Iceland's big role in Christmas is the spread you put on for your extended family – the party food. Iceland understands its role in its customers' lives really well. Probably last year's ad with Jason Donovan was a bit over the top and this is a return to classic Iceland form. It was about time to bring out Chris Rea again, and people respect Stacey Solomon's tenacity. Iceland is good at what it does."
Boots
The premise The 'Here Come the Girls' theme returns, but a little differently. The ad features women planning the festive season with warlike precision.
Richard's verdict "It looks and sounds like a Boots advert, but it lacks one critical issue: the insights about the way that women behave at Christmas. From the Secret Santa to the office party, to last year's 'We weren't going to do presents' ad, the Boots adverts understood the way women and Christmas work together.
"I like the joke about men not signing Christmas cards, but overall it lacks the acute observation and doesn't have the edge the others had. It's always felt like Boots found some deep insight about female behaviour because the writing team worked with female observational comedians to get it really sharp. This feels blunt in comparison. It's also clearly a spoof. The previous ads have been a bit more 'slice of life' – they might have happened, whereas this is more of a metaphor for the way that women organise Christmas. I know it is moving things on, but what was special about this campaign was that it showed women – who probably are wives and mothers – in their own worlds, in the office or with their mates. This ad takes us back to the old fashioned idea of women as the heart of the home."
John Lewis
The premise With a cover of The Smiths song Please, Please, Please Let Me Get What I Want playing, the ad depicts a boy waiting impatiently for Christmas. The twist is that he's not after his own gifts – instead, he's waiting to give his parents something.
Richard's verdict "The good thing about this ad is that people are talking about it. I like the fact that it's a subject of conversation within the media and in people's lives. What I admire about John Lewis is that it has a formula that induces spontaneous weeping among middle class women. It is doing adverts that are actually quite down, at a time when Christmas advertising is normally all about jingle bells. There's a nice twist in it, but it's not a particularly exciting ad creatively.
I don't think it's as good as 'Always a Woman' which was surprising, beautiful and moving. In comparison this is just a bit of an 'ah bless' moment. The formula works very well for John Lewis but I would like to see a little bit more ambition in the idea. It's also quite an old-fashioned approach to communications – nothing happens around the ad, everything is in that piece of film, unlike the Sainsbury's ad last year where people could participate."
Littlewoods
The premise At a school Christmas play, children sing and rap their way through a list of gifts their mothers bought various members of the family. The ad led to the Advertising Standards Authority receiving 456 complaints. Dissatisfied viewers argued it could ruin a child's belief in Santa Claus because it focuses on mothers' role in buying gifts. The complaints weren't upheld.
Richard's verdict "This is one of the most manipulative and crass pieces of advertising I've seen from a retailer. I don't know what Littlewoods thought it was doing. When the little girl puts her head through the curtain and shamefully appeals to mums, it's crass and emotionally manipulative. It takes the spirit of Christmas and turns it to commercial ends. Retailers do of course have a central role in the provision of Christmas. But this pushes it too far – that's my problem with it, rather than the idea that Father Christmas doesn't exist."
Extra content for Retail-Week.com users
Argos
The premise A family of aliens finds the concept of Christmas shopping on the High Street baffling, espousing the benefits of Argos' home shopping model.
Richard's verdict "It feels like this might be the beginning of quite a long-running campaign for Argos, which is to be welcomed as they haven't had one for quite a while. I can see the aliens becoming a way for Argos to mock conventional shopping. It's distinctive which will be helpful for Argos, and it undermines Christmas shopping without undermining Christmas – particularly with the Snowman gag at the end. It's nicely written and it's executed well."
The Range
The premise The general merchandise retailer only does TV advertising at Christmas and this one focuses on its wide choice of products with the tagline "If we don't sell it, you won't need it."
Richard's verdict "I really like the 'If we don't sell it, you won't need it' line. Last year their ad felt as though the retailer wrote it, and this year I think they have an agency. But it mocks the staff at The Range, which is never a good idea, by casting people to look like complete morons. You don't do that to store colleagues because it positions them as idiots and they feel embarrassed about it. When clients make their own ads, they're quite exuberant and you get the point. This year I think it tries too hard, and 15 seconds of the 30 second ad is setting up the products they don't sell."
Waitrose
The premise Delia and Heston welcome us into their School of Christmas Magic and take us through the products customers can expect this year, including products such as Delia's Christmas cake which customers can make themselves.
Richard's verdict "The attribution is good – everyone knows Delia and Heston mean Waitrose now. But I don't know whether to think it's really clever, because it combines the voice of tradition and the voice of modernity, or whether that's like trying to have your cake and eat it. Delia's and Heston's role in the supermarket goes a lot deeper than brand awareness as they help develop products too. I find Delia very reassuring and she's the backstop in pulling it all off. I'm quite excited about the food and the ideas – perhaps more so than any of the other ads – partly because they involve you as a viewer. It's quite an inspiring ad. Most of the ads say they have the same things everyone else has, but cheaper. Waitrose are differentiating themselves at a product level. Iceland and Waitrose are probably the two retailers that understand their audience the best, perhaps because they're much more niche."