Morrisons is the first grocer to launch its Christmas advertising, but this campaign raises a question over whether its festive promotional tactics will work.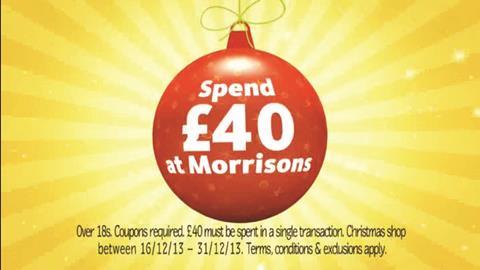 The 'Big Christmas Bonus' campaign features print and TV activity to promote Morrisons' offer of a £40 voucher to customers who spend at least that amount once a week during nine of the 10 weeks up to December 15.
The promotion does require a lengthy commitment from customers, which shoppers may struggle to maintain, but is designed to encourage repeat custom. It also offers a £10 voucher as a monthly reward.
The £40 figure catches the eye in the ads and should appeal to shoppers looking for savings in the lead up to the festive season. Planet Retail analyst David Gray says consumers tend to spend less in the months leading up to an event such as Christmas, then splash out when it arrives.
However, Gray says Morrisons' tactic to reward repeat custom may be misplaced because it does not have a loyalty scheme, so cannot provide targeted, personalised promotions such as Tesco and Sainsbury's do to retain new customers attracted by the deal. He observes: "The trend in the industry is to offer more personalised offers rather than blanket offers like this. This promotion is a move to reward loyalty and may help drive customers in store but it's not rewarding the most loyal customers because Morrisons doesn't know who those customers are."
The commitment to spending £40 regularly may discourage opportunist bargain hunters and its early timing should appeal to consumers already saving for the big Christmas shop. Yet Morrisons needs to move with the times and implement a sophisticated and targeted loyalty scheme if it is serious about rewarding its most loyal customers long term.