DFS promises in its new campaign that it will deliver sofas on time for Christmas, but it is questionable whether this fulfilment pledge will be enough to sway consumers to make such a big investment in the run-up to the festive holiday.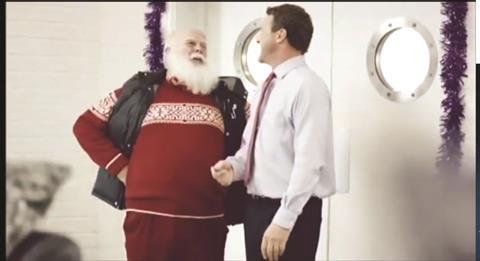 The TV advert features a Santa Claus lookalike cast as a DFS employee, who walks through a factory and inspects the work taking place.
Casting Santa as a staff member emphasises the furniture retailer's Christmas delivery guarantee.
This is underlined with a voice-over saying the retailer has "got the best people on the case", and later Santa is shown driving a DFS delivery van.
By ad agency Krow, the campaign may be designed to persuade shoppers to consider buying big-ticket items before the January Sales, but the festive music and imagery risks annoying viewers who believe October is too soon for a Christmas ad. The text on screen states that the delivery guarantee relates to half-price sofas from the DFS winter collection. But shoppers will have to go online and in store to see what is on offer because the ad only highlights two sofas briefly.
The lack of product also means the TV campaign does not showcase the quality of the sofas or the range available.
So consumers who don't already shop with DFS might not be won over by the deal.
The promotion includes four years' interest-free credit to appeal to shoppers looking for a bargain.
DFS will hope the value offer and delivery guarantee is strong enough to entice shoppers given the ad does not feature the range sufficiently.