Retail news round-up on November 27, 2014: Net-a-Porter website crash; Leahy defends Tesco years; Shops face Christmas profits squeeze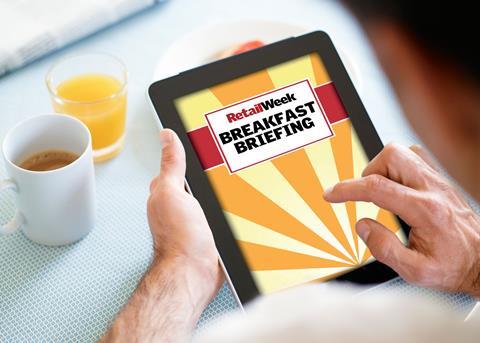 Net-a-Porter's website crashes after end of season Sale
More than a million British customers of Net-A-Porter have been left disappointed after the fashion website crashed just hours after launching its end of season Sale. The etailer start of its Sale at around 11am, but just one hour later a message began appearing on the site saying the page was unavailable. The company's Twitter feed asked shoppers to send a direct message with their details so the customer service team can contact them.
Speaking to Mail Online, a Net-A-Porter spokesman blamed high demand for the crash.
Meanwhile, the retailer's founder and executive chairman Natalie Massenet stands to make more than €100m (£79m) next year under a deal with its owner Richemont, according to calculations based on company documents and analyst valuations. Massenet is gathering estimates on the value of the business from potential bidders and bankers, financial advisers said. Her actions may be linked to an agreement with Richemont that could give her a big pay-out in 2015, based on Net-a-porter's value.
Sir Terry Leahy 'shocked' by Tesco events
Former Tesco chief executive Sir Terry Leahy has rejected allegations that the UK grocer became 'too big' during his 14-year reign and urged its new boss to focus harder on meeting shoppers' needs, The Guardian reported. Leahy was forced to defend the supermarket's international expansion, including the launch of Fresh and Easy in the US, a venture that cost Tesco £1.7bn and ended in the US chain filing for bankruptcy last year.
He told an audience at an Evening Standard business conference that Fresh and Easy would have been a good business, given time. He admitted to being 'shocked' by what had happened to Tesco since his departure, but declined to comment on the accounting scandal that has engulfed the group.
High street shops face Christmas profits squeeze
According to the CBI's quarterly retail report, high street shops face a profits squeeze going into the Christmas period. The distributive trades survey of 130 firms found that a majority expect conditions to improve over the next three months with many employing more people and increasing investment in line with the modest upward trend set over the past year. But shop owners are braced for a long period of intense price competition that kicks off this week when the US flash Sale phenomenon known as 'Black Friday' is given an even bigger push in the UK than previous years.