The countdown to this year's Black Friday has already begun as retailers race to prepare for the promotions extravaganza that transformed last year's festive trading pattern.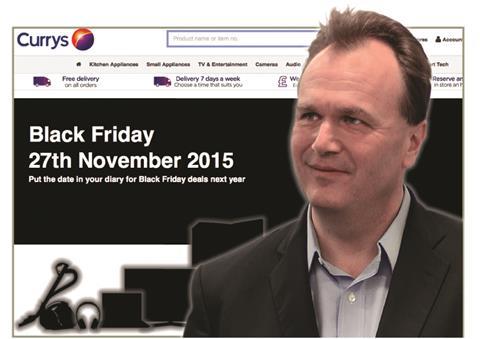 Despite Black Friday disrupting performance at some retailers, most concede that it is here to stay. Some, such as Dixons Carphone, have started implementing plans to navigate it better this year.
Although Dixons Carphone encountered problems including queues on its website and fulfilment issues, the electricals giant said that, in contrast to other retailers, Black Friday drove incremental sales without hitting margins.
Despite clocking up its biggest ever trading day on Black Friday the retailer also managed subsequently to deliver a record Boxing Day Sale. However, chief executive Sebastian James said Black Friday affected trade in between, and compared the new shape of peak trading to a double-humped camel.
James said: "Black Friday is here to stay and we are working out how best to run it next time."
He said Dixons began planning last year's event the day after Black Friday 2013 giving it more time to negotiate with manufacturers and make the supply chain as efficient as possible.
The retailer also ensured its promotions were flexible, pulling forward deals initially earmarked for Boxing Day to Black Friday.
Investec analyst Alistair Davies said: "Careful planning ahead of Black Friday to work with suppliers on targeted promotions allowed the business to deliver a positive surprise on gross margins."
Shop Direct will also go full throttle on this year's Black Friday. Chief executive Alex Baldock said last week Black Friday is "here to stay" and that the group is plotting a two-week bonanza for this year's event.
Home Retail boss John Walden believes Black Friday is now a UK retail fixture. He said that the pulling forward of sales meant demand softened in December at Argos, which reported flat like-for-likes over Christmas.
Black Friday caused headaches for many retailers, including Tesco and Asda where fights broke out in stores, and etailers including Amazon, which found it hard to fulfil orders.
Richard Hyman, of Richardtalksretail.com, said: "Retailers have made a rod for their own back. Will Black Friday be a feature again this year? I'm certain it will. It is a spectacular example of an industry characterised by panic."