1.4 million sq ft to be ditched as online reduces need for physical store space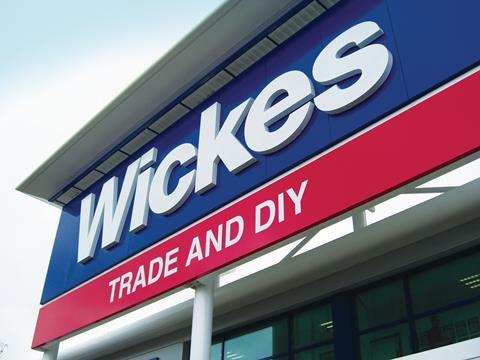 DIY retailer Wickes is to carve up its stores and sublet nearly a third of its floorspace as growing online sales reduce the need for large stores.
Wickes wants to ditch 1.4 million sq ft of space from the 5 million sq ft it has presently. The retailer will be downsizing more than 100 out of its 200 stores, but is also looking to expand with the smaller format.
Martin Meech, group property director of parent company Travis Perkins, told Retail Week the "right sizing" strategy should take about five years, and will involve existing stores being reduced to 20-25,000 sq ft, saving property costs and offering customers a more convenient way to shop. The average Wickes store is about 30,000 sq ft.
Meech said Wickes believes that in 10 years' time DIY retailers will have a portfolio of smaller stores with a strong multichannel offer.
Multichannel has been a key growth area for Wickes. Last year online sales rocketed 70%.
However, while other retailers are mulling downsizing because of the growth in online, some, such as Argos, insist they need all their space as a key part of their multichannel offer.
Wickes has in recent weeks carved up its store in Thanet, Kent, reducing the 60,000 sq ft store to 30,000 sq ft. It has sublet the space to The Range, which is fitting out currently.
"We can get the same turnover from 30,000 sq ft as 60,000 sq ft," said Meech.
On the other stores earmarked for downsizing, Wickes will be looking to sublet to retailers or give the space back to the landlord.
Meech said Wickes is the "first bulky goods retailer" to embark on a downsizing strategy as the multichannel opportunity grows. He said the retailer would become more profitable by reducing its property costs.
"This is us reconfiguring, reflecting what the shape of the retail business will be in 10 years' time," said Meech. "Wickes has been investing in multichannel for the past four years, with online, catalogue, home delivery and more centralised distribution. We don't need the space, so why pay for it?"
Meech said Wickes wanted a "store size that works best for the customer and is convenient to shop". He argued that the 100,000 sq ft sheds operated by rivals such as B&Q and Homebase are less easy to shop.
Wickes stores receive daily deliveries, meaning they do not have to store as much stock, allowing the smaller stores to offer the same number of SKUs as larger ones.
"Having a centralised distribution means you don't have to hold as much stock in stores," said Meech. "If you get your distribution better you don't need as much space."
Meech believes the demand for the "quality" space will be strong, but added that Wickes is under no pressure to downsize.
"The stores are profitable anyway, so we'll wait until the right deal and the right tenant comes along," he said. "We're in a great position."
He added that half of the portfolio is "perfectly sized" and that Wickes will continue to expand with the smaller store format. "There are 100 more locations for a Wickes store," he said.