B&Q and Screwfix owner Kingfisher has completed the first leg of its five-year mission to become a unified company.
Through its One Kingfisher strategy, the international DIY giant also hopes to achieve a sustainable profit uplift of £500m, above and beyond business as usual.
But at the end of year one, there are still cracks visible.
Despite unveiling a 14.7% jump in pre-tax profits, Kingfisher boss Veronique Laury was candid about "losing market share in France".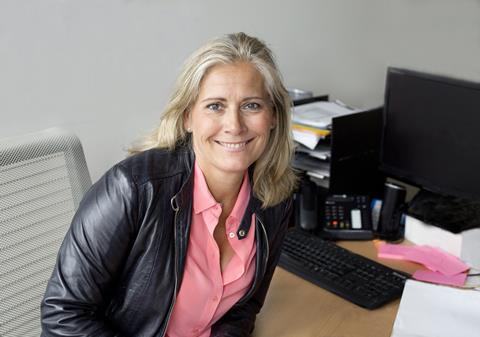 She puts sluggish sales at French fascias Castorama and Brico Dépôt down to the proposition, prices being too high, and being slow off the mark on the digital front.
Meanwhile, the business has uncertainty to navigate in the UK and France, not to mention an intensifying competitive backdrop.
With regards to the firm's new UK rival Bunnings, which unveiled its first Homebase conversion last month, Laury says "it is good to have strong competition because it pushes you", admitting that the Bunnings Warehouse store is "much better than what Homebase was before".
However, Laury is taking it all in her stride and is progressing with the next phase of her five-year transformation, which she reaffirms is "a marathon, not a sprint".
So, what comes next?
A digital push
One of the three pillars of the project is to improve Kingfisher's digital capabilities.
A new unified IT platform was rolled out in B&Q stores in the first quarter of last year, and has also been trialled at six Castorama stores.
The system will be used for Kingfisher's new company-wide 'Brilliant Basics' ecommerce platform.
Following in the footsteps of its digital-savvy sister company Screwfix, B&Q has made some strides to bolster its digital capabilities, including launching click-and-collect and improving search, mobile and checkout functionalities.
"As capabilities are added, customers are more encouraged to buy through digital channels"

Karen Witts, Kingfisher
As a result, digital sales increased 45% in the year, accounting now for 3% of total sales at B&Q.
But B&Q still falls behind its UK rivals in this department.
Homebase said ecommerce accounted for 10% of sales prior to its acquisition by Bunnings-owner Wesfarmers last year, and Retail Week Prospect predicts Wickes generates online sales at a similar level.
Kingfisher finance director Karen Witts says sales via the channel will increase as online shopping for home improvement products becomes more prevalent and the retailer's new platform is developed.
"As capabilities are added, customers are more encouraged to buy through digital channels," she says.
Witts predicts that online sales penetration at B&Q could soon reach around 6% and will hit the 10% mark in the future.
Screwfix expansion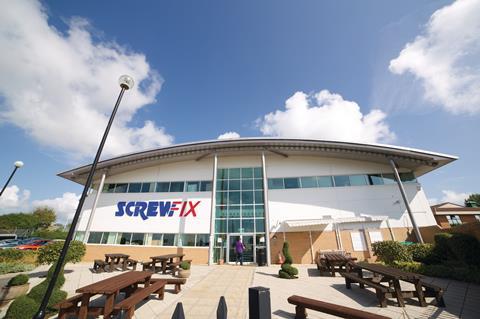 The jewel in Kingfisher's crown, Screwfix, once again dazzled, clocking up a 13.8% jump in full-year like-for-likes.
Along with its "best-in-class" digital capabilities, sales were driven by its specialist trade desks and 60 new stores, which took its store footprint to 517 units.
As a result, Kingfisher unveiled a new target to expand Screwfix to 700 stores, up from 600.
"We know we can open more stores in urban areas and London. We also see the opportunity for more stores in smaller towns," Laury says, who revealed that the Screwfix team is in the process of developing a smaller-format store.
Laury says it will not add to its 19 Screwfix stores in Germany for the time being. Expansion here will continue, she explains, when the new "IT backbone" is in place.
Unique ranges
Kingfisher is also set to introduce new bathroom, kitchen and garden ranges across its brands.
The new ranges will be marketed using the same advert – created by ad agency Leo Burnett and directed by Dexter Fletcher – across all geographies, launching first in the UK this week.
Following in-depth customer research, Kingfisher has discovered that customers' home improvement needs are "more similar than they are different".
The new ranges, Laury says, are not about products. "They are about providing solutions to the problems that are the same wherever you go," she says.
The unification process has involved cutting ties with a large number of suppliers and increasing the volume it orders from others.
Laury says the increased volume puts the business in a strong position to negotiate terms with suppliers, which, in the face of currency headwinds, gives it an added advantage.
Part of the second year of the plan also involves clearing out old ranges, which the retailer says is "so far on track".
New store formats
Last year, Kingfisher opened four new prototype stores, one of which was a B&Q superstore in Cribbs Causeway.
In an interview with Retail Week at the new store, Laury said it was not perfect and that the retailer was making changes all the time.
In addition to a new high-street B&Q store that opened in Holloway earlier this month, Kingfisher now intends to take learnings from its prototype stores and implement them across its portfolio.
For B&Q, this initially means renovating some of its stores. Following that, and dependent on the success of the retailer's continued trailing and testing, there will be more improvements and changes implemented across the estate.
Although there's no rushing Kingfisher's detailed five-year plan, Bunnings has started to creep onto B&Q's territory, one conversion at a time.
While the second phase of One Kingfisher should bring more visible differences to the stores, proposition and digital offer, the retail giant has a long slog ahead of it before its unified house is well and truly built.