Ikea has outperformed the tough big-ticket market to post a 6.3% rise in sales as well as market share gains as the furniture giant revamps its estate to introduce in-store theatre.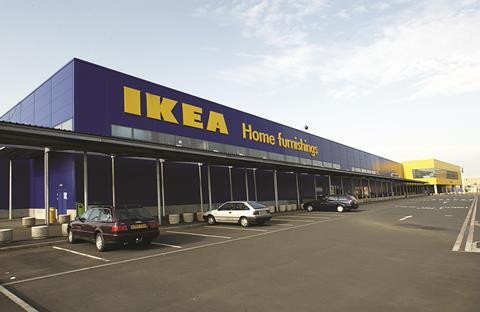 In the year to August 31 the world's largest furniture retailer notched up UK and Ireland sales of £1.23bn. Like-for-likes rose 6.3% as Ikea invested £30m into the shopper experience. Online sales surged 25% and the retailer increased market share by 0.4% to 6.8%.
Ikea UK and Ireland acting country manager Carole Reddish said the retailer benefited from lowering prices by 0.6% in the year – following a 5% reduction the year before – as well as investing £4.7m in slashing the cost of home deliveries from an average of £35 to between £15 and £25.
The retailer, which is celebrating its 25th anniversary in the UK, also upped the number of products sold online by 1,500 to 6,000 in the year.
In a departure for Ikea, it is introducing in-store theatre – such as workshops on how to customise products as well as sampling from its Swedish Food Market – to brighten up its normally functional stores to coincide with its 25th anniversary celebrations.
"It's about bringing theatre to the shopping experience," said Reddish.
Ikea has also revamped the Market Hall area in its Warrington store to simplify the buying process for customers and provide more "points of inspiration". Manchester and Croydon will be revamped next before a roll-out across stores.
"We want you to step off the path and be inspired," said Reddish, in reference to the famous racetrack layout.
Reddish declined to give profit figures but said offering value and growing share were more important than earnings.
"We want to grow. If that means you invest to do so, that's what we do," said Reddish. "We don't put profit before our vision."
The retailer has 18 UK stores at present, and Reddish sees scope for double that. Ikea's 19th UK store is scheduled to open in Reading in 2014, and Reddish said it will be its most sustainable store to date.
The retailer will launch wi-fi in stores, which Reddish said would enable shoppers to use tools to "help them around the stores" as well as give more product information.
Reddish said Ikea has benefited from consumers seeking out more value in the downturn. "Our brand is more relevant in times like these," she said.
Despite the difficult trading conditions Reddish remained optimistic for 2013: "Big-ticket purchases won't be easy to come by. But there's market share up for grabs."