Topps Tiles' like-for-like sales edged up by a marginal 0.3% in its first quarter amid what chief executive Matthew Williams described as "softer trading conditions".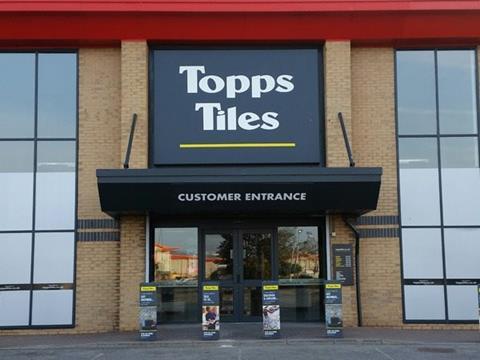 However, due to the timing of public holidays, the 13-week period to December 31 included one additional trading day, which the retailer estimates flattered its like-for-like sales growth by 0.6% for the quarter.
The tiling specialist said the impact will reverse in its second quarter.
Williams told Retail Week that sales during the period were impacted both by changes in the housing market and consumer confidence.
"We can certainly see a levelling-off in the housing market in terms of price, but more so in terms of housing transactions.
"After a big spike in transactions last March brought on by changes in stamp duty on second homes, transactions have now fallen back, which isn't particularly helpful to us.
"Then consumer confidence was pretty subdued in the quarter overall. This seems to be linked to the Brexit result and customers having lots of worrying headlines coming through in the media," Williams said.
"I think, all in all, it's a good performance versus where we believe the market to be," he concluded.
During the period, Topps Tiles' trade loyalty programme reached 24,000 participating traders, and it said its enhanced wood-effect tile ranges continued to deliver "strong growth".
Looking ahead
Despite softer trading at the end of last year, the retailer remains confident in its ability to outperform the overall tile market.
"Against this background, our proven strategy, well-invested business and market-leading position leave Topps well-placed for further market share gains in the year ahead," Williams said.
Topps Tiles opened five new stores during the quarter, ending with a total of 356 units.
It expects to open 15 new stores in the remainder of its current financial year.