Furniture retailers have reported strong starts to their critical Boxing Day Sales but remain cautious on the outlook for the big-ticket sector.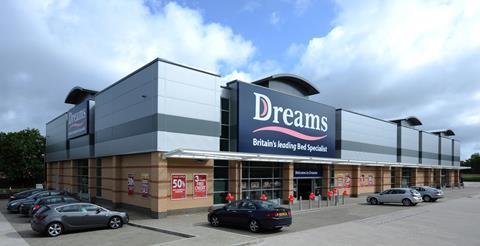 Beds giant Dreams chief executive Nick Worthington said its Sale – which includes a three-for-two deal on all bedroom furniture – had started well, and that the retailer had been increasing market share in recent months as a result of an improved customer proposition and streamlining of the business.
Worthington said it was too early to forecast how the Sale period would pan out, and that the general economic uncertainty made it hard to predict how 2012 will play out. However, he warned that this year would be another "very challenging" one for the furniture sector.
John Lewis recorded strong growth in its home and furniture category this week, with sales up 13.6% in the five weeks to December 31. Beds performed particularly well, the retailer said.
Furniture retailers will be up against tough comparables this January. Last year shoppers pulled forward purchases as they aimed to beat the VAT rise, which most big-ticket chains passed on only in February. A director of a large furniture specialist said he was "reasonably happy" with the start of the Boxing Day Sale, adding that the retailer's level of discounting was lower compared with the previous year, and that it was more targeted. "Our like-for-likes will be ahead of last year by the end of the week," he said. "But 2012 will be tough. We'll have to fight for every order."
Beds retailer Feather & Black said it had seen a "significant shift" to the internet and away from stores this Sale period. Managing director Adam Black said the retailer had benefited from becoming more of a lifestyle brand than just a furniture retailer.
Sofa retailer CSL this week said it performed well in the run-up to Boxing Day, with like-for-likes up 3.3% in the four weeks to December 26.
According to an ICM poll conducted on behalf of Retail Week, 48% of consumers said they were less likely to spend on big-ticket items this year than they were last. 25% said they would spend about the same while 6% said they would spend more.