Homebase sensors its customers, shoppers get inventive with plastic bag replacements and M&S launches a breast cancer campaign.
Homebase's banter police crack down on naughty shoppers
Lettered ornaments can be a source of great amusement for mischievous shoppers.
But it seems that customers cheekily rearranging the merchandise got too much for Homebase. So much so, the DIY retailer took action.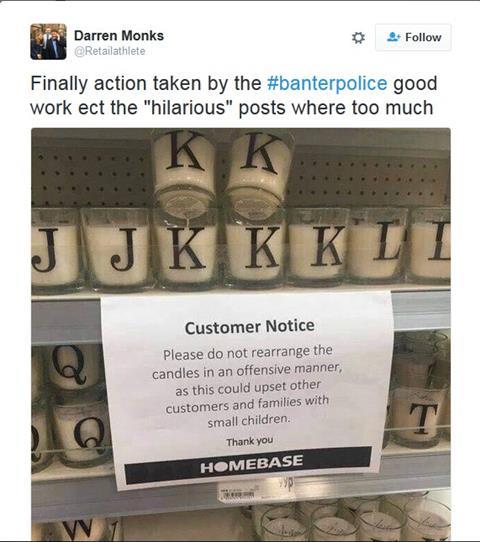 Darren Monks spotted this sign in Homebase, positioned to prevent the merchandise being tampered with any further.
"Finally action taken by the banter police," he tweeted.
Good luck to the store associate tasked with sorting this shelf out, we imagine, on a daily basis.
We were also sent a much cruder example of re-arranged candles on a shelf in Asda. Sadly that picture was far too rude to print.
The plastic bag of shame
The introduction of the 5p charge for plastic bags earlier this year had many shoppers up in arms.
While the initial furore may have died down, it would appear that shoppers are going to new lengths to ensure they aren't charged for an offending shopping bag.
A survey by BusinessWaste.co.uk found that shoppers had used everything from a cycle helmet to flower pot to carry their shopping in a pinch rather than resorting to parting with 5p for a plastic alternative.
Retailers will hope that shoppers will be less thrifty when shopping for items to put in their flower pots this Christmas season.
M&S launches breast cancer campaign, donates sales to charity
M&S has launched a campaign encouraging women to get active to help prevent breast cancer, and will be donating sales revenue to charity.
The department store chain will donate 10% of all sales from women's fitness clothing and sports bras to Breast Cancer Now in October, which is Breast Cancer Awareness Month.
It has teamed up with seven women affected by breast cancer to model its sportswear collection.
According to Breast Cancer Now, women who are active for 30 minutes every day can cut their risk of developing breast cancer by at least 20%.
The money raised will fund Breast Cancer Now's research. M&S is hoping to raise £13m over the next five years to help prevent 9,000 cases of breast cancer annually.