As doom and gloom continue to swirl post-Brexit, DFS can allay fears about consumer confidence and big ticket purchases.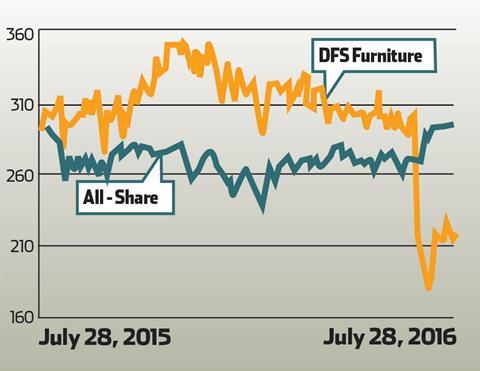 The furniture specialist, which is sponsoring Great Britain's athletes at the Rio 2016 Olympic Games, is setting itself up for the next phase of the retail marathon rather than sprinting for short-term success.
In a climate of shaky consumer confidence, a volatile pound and house price fears following the UK's decision to exit from the EU, DFS could easily be singled out as one of the big-ticket operators who could be facing the high jump as one of retail's post-vote losers.
But the business is bidding to hop, skip and jump its way through any potential economic downturn – just as it did during the last recession – with a six-point strategy built around broadening its appeal, opening new stores in the UK and overseas, making better use of existing store space and driving its online proposition.
Recession-proofing plan
That plan, outlined last year, involves opening smaller format stores in shopping centres and high street locations, and transforming sections of warehouse capacity at the back of its more traditional big-box sheds into additional retail space to drive sales.
It is a strategy that may have a few laps left to run, but one that has already put the upholstered furniture market-leader firmly on the right track for further triumphs.
Financial results at the half-year stage revealed that the furniture retailer had increased EBITDA by 12.3% to £31m on gross sales that climbed 7% to £461.3m, prompting boss Ian Filby to hail the "current health of the furniture market environment."
But the vote to leave the EU has threatened to derail the recovery of the sector, placing another significant hurdle in the path of DFS and its fellow big-ticket operators.
Investors braced for slowdown
In the aftermath of the referendum, DFS's share price has slumped around a third, as investors presumably brace themselves for a slowdown in the housing market and weakening consumer confidence proving an off-putting factor when considering big-ticket purchases.
According to the GfK Consumer Confidence Index for July – the first full month since the shock result – the major purchase index fell 11 points to -2.
Unsurprisingly, analysts at DFS broker Jefferies highlighted "a slowdown or decline in like-for-like sales growth caused by weak consumer confidence" as the "main risk" facing the business, while Stifel also pointed to the "considerable uncertainty" surrounding the strength of consumer spending as a concern for the retailer.
Yet, despite slashing its 2016/17 pre-tax profit forecast for DFS by 13% since the referendum – and anticipating a 2% drop in like-for-like sales next year having previously forecast 3% growth – Jeffries concludes that the retailer is "well placed to gain market share and manage any consumer downturn with confidence."
Its full-year figures will provide a clearer indication about whether DFS can continue going for gold, or face a scrap for the podium positions.