Furniture retailer MFI is to be reborn at the end of the month as an online retailer almost three years to the day after the company collapsed amid the punishing trading conditions of 2008.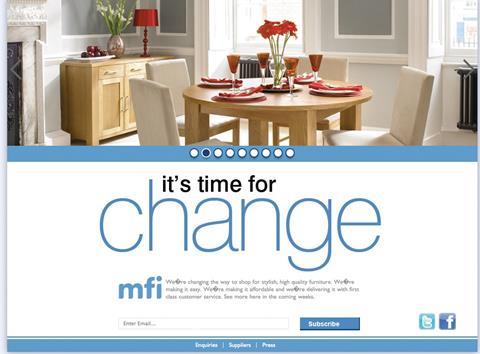 The big-ticket trading environment has improved little since that time, and MFI will have to fight for spend as cash-strapped shoppers put off discretionary purchases.
Sources said there are no plans to open MFI stores, which were a large part of its defunct predecessor's problems. The stores were viewed as too large and with expensive leases.
It is understood that MFI.co.uk will sell bedroom, dining room and bathroom furniture, but not fitted kitchens, for which MFI was famous.
Mfi.co.uk has had a holding page since August 2010 when the little-known plumbing business Walker Group bought the rights to the MFI brand from administrator MCR for £250,000.
But in recent days it has ramped up digital presence, launching on Twitter and Facebook and refreshing its holding page. There is no opportunity to view or buy products at the moment.
After MFI's collapse other retailers extended their offerings to try and mop up some of the market share left behind. Wickes is continuing to roll out its standalone Wickes Kitchens & Bathrooms fascia, while both B&Q and Homebase have expanded their ranges in kitchens and bathrooms.
On the refreshed website, MFI says: "We're changing the way to shop for stylish, high- quality furniture. We're making it easy. We're making it affordable and we're delivering it with first-class customer service."
Etail expert Michael Ross, co-founder of eCommera, observed there may be value left in the MFI brand, but added: "The challenge is to turn that into a profitable business."
MFI collapsed minutes before Woolworths on November 26, 2008 in a sombre day for the retail industry.
The Woolworths brand was also resurrected online after collapsing in 2008. Shop Direct bought the brand.