Ikea has revealed plans to ditch all single-use plastic products in the next two years as concerns grow over the impact of plastic pollution on the environment.
Ikea has said it will stop selling single-use plastic in stores. Its customer and company restaurants will remove items such as disposable straws by 2020.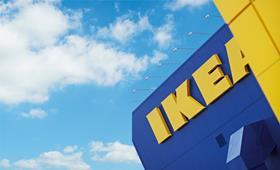 The target comes as the retailer reveals its updated sustainability strategy, outlining commitments to create all Ikea products only using renewable and recycled materials, and to increase the proportion of plant-based choices in its food offer. A veggie hotdog will launch globally this year.
The Swedish giant also plans to reduce its climate footprint by an average of 70% per product. It said this would be achieved by working together with home furnishing suppliers across their factory operations, not just through its own manufacturing base.
Ikea's commitment comes amid increasing alarm over the damage plastic pollution is having on the oceans and wider environment. At the weekend, a pilot whale was found dead in Thailand with 8kg of plastic inside it.
Last month the EU announced plans to ban single-use plastic.
More retailers are revealing plans to ditch single-use plastic. In April, some of the largest retailers including Tesco and Sainsbury's signed up to the UK Plastics Pact, an industry initiative designed to make all plastic packaging recyclable, recycled or biodegradable by 2025. In the same month, Selfridges said it would stop selling single-use carbonated drinks bottles.
Inter Ikea group chief executive Torbjörn Lööf said: "Our ambition is to become people- and planet-positive by 2030 while growing the IKEA business. Through our size and reach we have the opportunity to inspire and enable more than 1 billion people to live better lives, within the limits of the planet.
"Change will only be possible if we collaborate with others and nurture entrepreneurship. We are committed to taking the lead working together with everyone – from raw material suppliers all the way to our customers and partners".