Furniture retailer Made.com has the flexibility to experiment in how it engages with customers in both the physical and online spaces.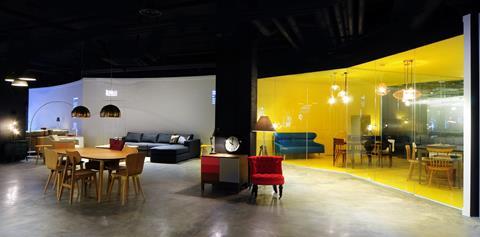 Made.com has been trying out different ways of showcasing its furniture, using showrooms and creating online content which engages with customers and turns them into Made.com ambassadors.
"We're a brand that's revolutionising the furniture industry," Made.com's UK country manager Annabel Kilner said at the British Retail Consortium's Omni-Channel Retailing conference in London this week. "That hasn't been done since the shake-up of Habitat in the 1960s."
Interactive showrooms
As Made.com gears up for a stock market flotation that could value the business at over £100m, it has opened its fourth showroom, a 4,000 sq ft space in London's Soho.
It is difficult for Made.com to track whether the physical showrooms - three in London and one in Leeds – are providing any return on investment, but Kilner said the Soho showroom has seen around 3,000 visitors a month since opening in January.
The Notting Hill Gate showroom on the other hand requires customers to sign in using an email address to enter, which helps track any increases in sales.
"We've matched the data up so we know that 5% to 6% of sales were generated from people who came to the showroom," said Kilner. "It's really a very small part of the business."
In fact, it is so low-key that the Leeds showroom, situated in a Victorian mill, is leased on a commission basis with no contract – "it's low-risk to try it out," she explained.
But the retailer's physical offerings are not your traditional shops. It is constantly experimenting and merging the boundaries between on- and offline.
"While we think technology is the most important thing, we think about what the customer likes to do," she said, explaining that customers like to take away fabric samples or postcards of products from the showrooms.
Made.com has also been testing out 3D projections within the showrooms to demonstrate what an armchair might look like next to a sofa, for example. "It's a confined space, so you can't give it to all the furniture," said Kilner.
The showrooms are also equipped with Mac computers so customers can self-serve, while assistants roam the room holding iPads in case they need any further help. Meanwhile, NFC-enabled cloud tags allow customers to tap their mobile devices to receive more product information which can then be emailed to them or stored in online wish lists.
"When a customer arrives, their content really should be personal to them. Made.com doesn't have log-in and collecting data across devices, but we're trying to work on that, and we'll make big inroads this year," Kilner added.
We're a pure-play business, which means content is absolutely key for us

Annabel Kilner, Made.com
Content is king
Online content is another way in which Made.com is trying to provide an engaging experience for customers.
"We're a pure-play business, which means content is absolutely key for us," Kilner said. "It's the convergence of content and commerce, but for us they're two of the same things – we've never been retailing without content."
For each new furniture collection, Made.com spends a minimum of two days shooting photographs of the products to use as images for marketing, 3D models and video footage.
"We effectively sell images," she added. And with two new collections per week – 220 new products so far this year – the etailer needs a lot of new content to talk about its products.
Unboxed
One of Made.com's engagement tools comes in the form of its Unboxed online forum - an area of its website where customers upload photographs of Made.com furniture in their homes.
"There's also Ikea and John Lewis furniture in the photographs, but we're happy for that to happen," said Kilner. "People like to understand how furniture fits into their homes. And this platform enabled us to show off our furniture in a different way and at a very low cost to our business."
Kilner explained that Unboxed was launched off the back of customer feedback. "It completely made sense as a business opportunity for us."
This platform enabled us to show off our furniture in a different way and at a very low cost to our business

Annabel Kilner, Made.com
Customers aren't incentivised to use the platform, which is in beta at present, and Kilner said the retailer does not know whether participation leads to conversions. It plans to launch Unboxed in a further four countries over the next three months.
"We need to get it to scale to make it a useful tool for the customer," she added. "But it is an opportunity for customers to become ambassadors for Made.com - customers are just proud of their home, happy to put up photographs and answer questions in the community."