As Easter approaches, Homebase chief executive Damian McGloughlin can look forward to DIY retailers' equivalent of Christmas with more confidence than he could last year.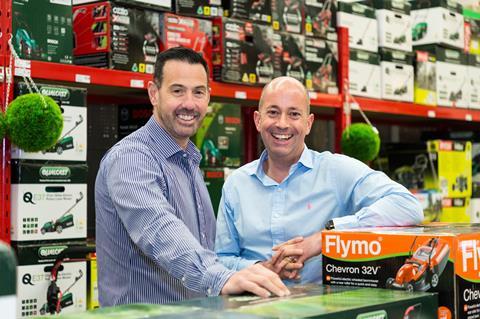 Back then, Homebase was poised to be sold for just £1 following the disastrous ownership of Wesfarmers, whose strategy at the retailer might be described as 'destroy it yourself'.
But, having begun to spruce up the business since, McGloughlin is confident his strategy is addressing Homebase's DIY SOS.
The early signs bear him out. Today, Homebase reported an EBITDA loss of £33m for the 26 weeks to December 30, 2018. That shows there is still much to do but is nevertheless a big improvement on the £172.3m loss in the comparable period the previous year – an 80.8% improvement.
Like-for-like sales over the period were in "high single digits" and Homebase is "on track to break even this year".
In a sparkling new kitchen – that feels as if it might be in someone's home but is actually on the mezzanine level of Homebase's Harringay store in north London and is representative of the changes taking place – McGloughlin and chief financial officer Andy Coleman outline their plans to turn around the retailer.
Under Wesfarmers' ownership, Homebase ran up total losses before interest and tax of £521m. After paying £340m for the retailer in 2016, it offloaded it to specialist investor Hilco for just £1 in June last year.
Wesfarmers aimed to rebrand Homebase to its own Bunnings fascia, bringing with it a new proposition that was lost in translation.
McGloughlin and Coleman both joined Homebase in 2017 when it was still under Wesfarmers' ownership and, though they remain tight-lipped about what went wrong, they both agree that the Australian company misread the UK market.
McGloughlin says: "I have an opinion but it's history. I can't change the past and we're going forward."
Turnaround plan
McGloughlin is now focused on the future and, together with Hilco, he and his team created a turnaround plan based on three main principles.
First, they had to address fixed costs.
A CVA was launched in August last year and 47 stores have been closed and rental deals have been struck with landlords on another 70. The number of distribution centres has been streamlined to four rather than six, reflecting the smaller estate and better stock management.
Nearly half of jobs (almost 400 roles) at the support centre were cut during what McGloughlin described as "difficult but necessary decisions for the future".
Second, there was increased focus on better shopkeeping and a better in-store experience.
Under Wesfarmers, Homebase adopted a harder-end warehouse format that did not resonate with the Homebase customer. A softer feel is being reintroduced, including soft furnishings, more paint and wallpaper ranges and more lighting, kitchen and gardening ranges – the "sweet spots" where Homebase intends to win.
Complementary concessions have also been reintroduced. In December, Tapi Carpets became the latest concessionaire alongside partnerships with paint brand Dulux and bed and mattress specialist Silent Night.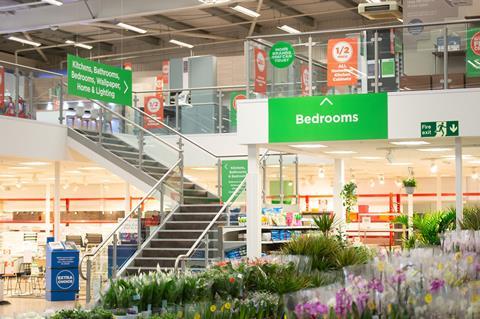 Managers have more autonomy, enabling them to make the most of their shopkeeping skills.
"What you sell in Aberdeen is different from what you sell in Cornwall," McGloughlin says – so stores can be better tailored to their catchment's needs.
Coleman says customers are starting to notice the changes being made. "If you're working hard for customers, they've got money to spend with you," he says.
Third, and "the biggest part", according to McGloughlin, is ensuring that Homebase's teams, suppliers and, "more importantly", customers are re-engaged with the Homebase brand and all on the journey with the management team.
"In the last six months, we've done a challenging job but a great job," McGloughlin says.
"We're £140m EBITDA better in six months and that is through hard work. It's been a real team game and if there's anything to be proud of it's the team that's really developed."
Now they have begun to address the basics, how do McGloughlin and his team plan to restore Homebase's heritage as the place to 'make your house a home'?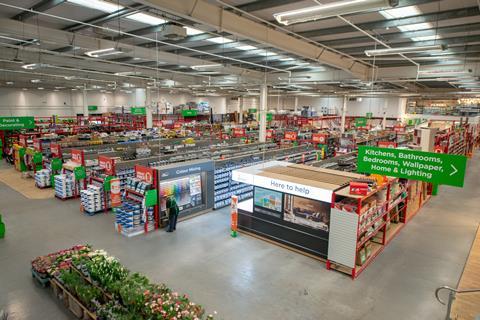 The new model evident in Harringay will be rolled out if successful.
The retailer will not try to cover every part of the home and DIY market and will continue to seek complementary concession partners.
In Harringay, there is space set aside for its newest concession that is still under wraps. However, a pet concession was hinted at.
When pondering possible concessions, McGloughlin says: "It must be complementary to our range that we will win in, bring footfall to our stores and their online business has to plug into our online business."
As well as focusing on getting its bricks-and-mortar stores back in shape, Homebase has spent about £5m on improving its online offer.
There are now 40,000 products online, and search has been enhanced through filter options, photography and presentation to allow customers to navigate the site with ease.
Looking ahead
McGloughlin, who has been in DIY retail for 34 years from shop floor to boardroom, sees plenty of potential and opportunities for Homebase, in what he maintains remains a fragmented market despite competition from giant rivals such as B&Q, his former employer that is also experiencing difficulties.
"It's always been tough," he says. "It's a growing industry and there is still a customer need out there, so let's show what the customer needs are and be really good."
He is happy with the backing of Hilco. While some critics see Hilco as a 'vulture fund', that is not his take.
"[Hilco] has been 100% supportive all the way and I think we have a good relationship. They treat themselves as the investors and let us run this business how we think is right. I think they're fabulous owners and have been hugely complementary, bringing skills to the table.
"Every conversation we have with them is about running the business for the long term and all about doing the right thing."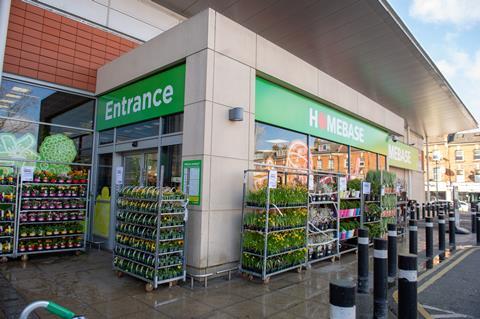 While Homebase expects to break even this year, McGloughlin is determined not to get ahead of himself.
"Everything's an opportunity, everything's out for discussion, but I think one of the things we need to do is get to breakeven, then we've got strong plans ahead – and one would be a growth plan."
As competitors such as B&Q prepare to launch new, smaller 'convenience' store formats, Coleman says Homebase is a long way off anything similar, but new stores will be something to consider in the next few years.
"We've still got some stores to close through the CVA and some to downsize," Coleman explains. Homebase at present has 188 stores and wants to get that down to "just north of 170".
Coleman says there have been approaches from landlords keen to bring in Homebase. He says: "We're not going to rush into that because we've got a lot of work to do on our current estate, but would I imagine in 2020, 2021 that we will be back opening new stores? Yes."
McGloughlin and Coleman are only 10 months into a three-year turnaround plan, but they are pleased with progress so far. Unlike some DIY jobs, they are determined that the revival of Homebase will not be botched.