A team of highly experienced retailers aims to shake up tile retail with the launch of a specialist online business.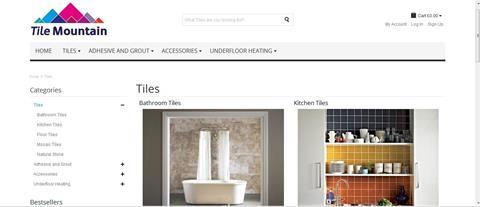 Mo Iqbal, who worked for Topps Tiles and built Tile Giant before selling it to Travis Perkins, and colleagues including Jeremy Harris, a former Topps commercial director, have launched Tile Mountain. Former Topps chief executive Nick Ounstead has joined as a non-executive director.
Trading from www.tilemountain.co.uk, the etailer, which launched last week, aims to offer lower prices than established competitors without compromising on product quality.
Tile Mountain enables consumers to order free tile samples within 24 hours – a service typically charged for by rivals – before they buy, and charges about half the price of competitors.
"We've been pretty overwhelmed. Our sample uptake is two to three times where we expected it to be and week one revenue is three times where we expected it to be " said Iqbal.
The £600m tiles market is dominated by Topps Tiles, Kingfisher's B&Q and Travis Perkins but about 35% is in the hands of independents.
The online tiles market is thought to be worth about £50m a year and Iqbal is convinced Tile Mountain can fill a gap as that figure grows.
Retailers with large store portfolios have to sell online at the same price as in-store and are less able to cut prices because of their cost bases, he said, while "one-man bands" may not provide high enough service standards. "We identified there was no player on the net," said Iqbal.
Ounstead said high levels of service, such as next day delivery and no quibble returns, would also set Tile Mountain apart.
The retailer distributes from a warehouse in Stoke on Trent, where it is also about to open a shop next door. An extensive chain has been ruled out but more outlets in low-cost locations, similar to the approach taken by Kingfisher's Screwfix, may follow.
Iqbal said: "I don't see 300 shops but I might see 30 to 40 locations to support the online offer."