Findel said "strong" performance from its homewares business is set to drive group sales growth of 2.7% for the year ending March 27.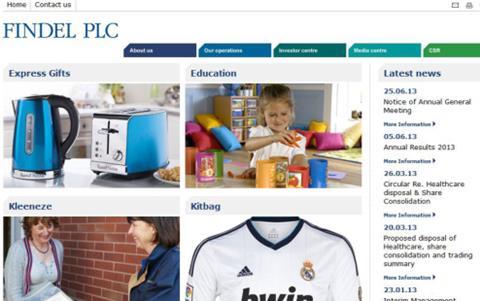 The home shopping retailer saw sales growth in its largest business, Express Gifts, with total sales jumping 4.8% during the 12-month period, it said in a post-close period trading update today.
Express Gifts' product sales were up 6.6% for the year and 7.9% in the final quarter, but gross margin was down due to "changes in product mix," Findel bosses said.
Overall growth has come principally from "increased spend from existing customers," but Findel said Express Gifts' customer base had also grown 2.2% by the end of December 2014.
The retail group also reported a "strong recovery" in the performance of its Kitbag business, driven by a record Christmas trading period.
Sales for the year ending March 27 were up 10.5% which "substantially reduced" the businesses operating loss.
Findel said a strategic review was "continuing" after it revealed last year it was seeking a buyer for Kitbag.
Findel Education reported a "tough" year which was set to dent overall group profits. Full year sales dropped around 6.5% on the previous year with sales in the final quarter down 9.2%.
Findel struck a deal to sell its catalogue retailer Kleeneze to CVSL for £3.4m back in February, a deal that was completed on March 24.
It saw year-on-year sales fall 21% in results that are set to be reported as a "discontinued operation" when Findel reveals its full-year figures in June 2015.