Direct-to-consumer mattress specialist Eve Sleep's founder and chief executive Jas Bagniewski has left the business with immediate effect.
News of his departure accompanied a trading update that said sales did not meet expectations and Eve had lost focus as it expanded.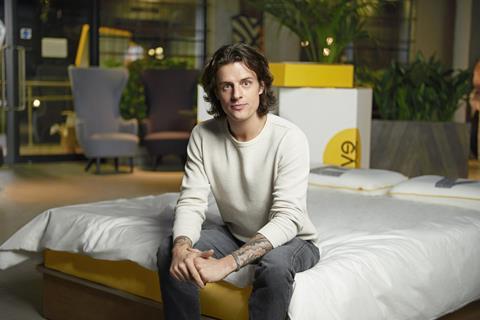 However, it also said the firm has struck a deal to sell its mattress in a box at 193 Dreams stores and on the beds specialist's website.
Eve maintained that in the six months to June 30 it outperformed the market. Sales rose 61% to £18.6m but that was short of expectations.
While volatile trading conditions played a part, Eve reported that the performance reflected "the fact that key growth initiatives have been launched at the latter end of the half and as such are yet to generate a meaningful financial contribution.
"In addition, management has made some strategic missteps, underestimating what is required to develop a meaningful footprint across continental Europe, while losing focus on creating an aspirational sleep brand in its core markets."
It added: "The company has decided to refocus its strategy, from scaling across multiple new countries to prioritising greater penetration in its core growth markets.
"This will enable Eve to focus on its key strengths around customer experience, product differentiation and brand. An evaluation of each of our existing European markets is underway to determine those that are core. We will report the conclusions at our interim results in September."
Eve said the revenue shortfall in the first half was unlikely to be made up in the second "given that the pull back from non-core markets will also act as a drag on second half revenue growth".
The lower growth will delay UK profitability from the fourth quarter of this year.
The Dreams deal increases Eve's retail presence across its three largest markets to 331 stores – the others are Next Home, Fenwick and Debenhams in the UK; Karstadt in Germany; and BUT in France.
The search for a successor to Bagniewski will start immediately. Chief financial officer Abid Ismail will act as chief executive on an interim basis.
Eve chairman Paul Pindar said: "We have fallen short of our own and the market's high expectations and as a result have taken the tough decision to make management change.
"Jas has, as one of the founders, been a driving force for this business and has much to be proud of. He leaves with the board's best wishes for the future. In tandem with the search for a new CEO, we will with immediate effect be refocusing all of our efforts on strengthening the Eve brand in our core markets.
"While we do not anticipate a near term improvement in the external environment, we have a healthy net cash position, our trading continues to far outstrip that of the market and should be underpinned by company growth initiatives including the Dreams partnership that we expect to benefit the traditionally stronger second half.
"We remain convinced that the sleep market will continue to transition online, that the opportunity to build a new brand of size and strength is significant and that Eve is well placed to achieve this."