Eve Sleep, which floated two months ago, has unveiled a major expansion of its partnership with Next Home and strong sales growth.
At its debut announcement as a listed company, the mattress-in-a-box retailer said overall sales, including in international territories, rocketed 126% to £11.5m.
In the 26-week period to June 30, during which the ecommerce-focused firm ploughed ahead with its European expansion, UK sales rose 107% to £6.3m.
Eve said the performance is indicative of "continuing momentum" and "reflects the brand's increasing penetration in existing territories and successful expansion into new markets".
Clicks and bricks
Despite generating the majority of its sales via its own website, the company has further developed its retail partnerships during the period, including an acceleration of its tie-up with Next.
By the end of this month, Eve products will be stocked in 55 Next Home stores, up from the three stores it is currently available in.
Combined with Eve's presence in selected Debenhams, Fenwicks and Bentalls stores, its UK physical retail footprint will subsequently increase to 63 stores.
The brand is also in advanced talks with a number of retail partners in its core European markets.
Outlook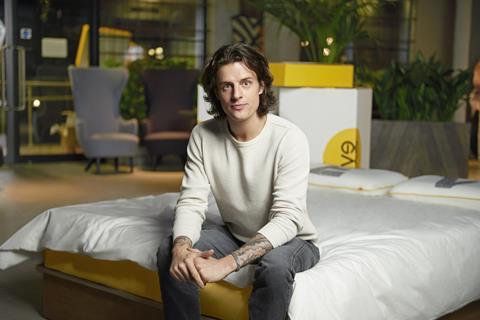 Eve predicts its coverage of the UK market will "continue at pace in the second half of the year", and is in line to meet the board's full-year expectations.
Its chief executive Jas Bagniewski said: "Our successful IPO in May tops off what has been an outstanding first half for Eve, with sales more than doubling in the UK and overseas.
"As the market continues its transition online, Eve aims to fully capitalise with its simple and compelling customer proposition which, combined with a step up in marketing, is expected to drive increased brand awareness and market share gains from the traditional operators.
"We approach the future with confidence and look forward to delivering for all of our stakeholders."