DFS total sales jumped 7.4% to £980.4m in the 52 weeks to July 30
Pre-tax profits nearly doubled, up 93% to £64.5m, from £33.3m in 2015
Underlying EBITDA rose 5.8% to £94.4m
Sofa specialist set to open its third DFS small store in Crawley
Sofa specialist DFS has hailed a jump in annual sales and profits as its "tried and tested" growth strategy continues to pay off.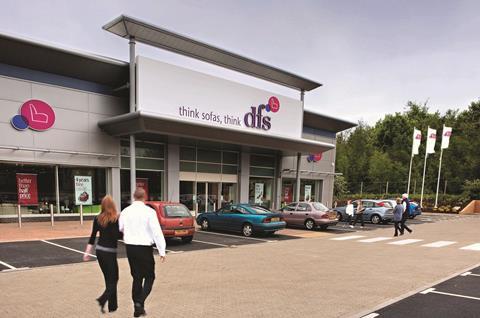 DFS chairman Richard Baker said the retailer's strategy enabled it to deliver "record" results, with sales up 7.4% to £980m and EBITDA up 5.8% to £94m.
Pre-tax profits rocketed 93% to £64.5m in the sofa specialist's full-year to July 30.
Baker said: "Our unique and flexible business model, the quality and commitment of our people, our family culture and our focus on customer satisfaction remain the key factors behind our continuing success."
The retailer has been focused on broadening its appeal during the period. It has grown branded upholstery orders by 35% and reported continued momentum online – although growth here slowed to 15.6% for the year, compared with 17.5% the year before.
DFS chief executive Ian Filby said: "It is naturally pleasing to again report record results that demonstrate the robustness of our business model, the effectiveness of our growth strategy and the excellence of our products and our people.
"Together these unique assets give DFS the proven ability to achieve consistent outperformance of the retail furniture market over the long term."
Stores
The sofa retailer opened three of its traditional format stores during the year, as well as a trial small store in Bromley.
DFS unveiled plans today to open a third small-format store in Crawley.
The retailer said its Dwell and Sofa Workshop subsidiaries continued to "perform well". The retailer installed 12 Dwell shop-in-shops during the year and said there is the potential for a total of 40.
DFS opened a third store in the Netherlands post-year-end, and said trading in the country was in line with its expectations.
Competition
DFS is preparing to go toe-to-toe with new sofa and upholstery retailer Fabb Sofas, launched by DFS founder Lord Kirkham.
Kirkham has raided his former business for talent, poaching several top DFS directors, including former retail operations director David Payling, to head up his new venture.
The first Fabb Sofas store in Hedge End retail park is set to open in the coming weeks.