Carpetright boss Wilf Walsh has confirmed plans to overhaul the retailer's full UK estate, consisting of 429 stores, by 2018.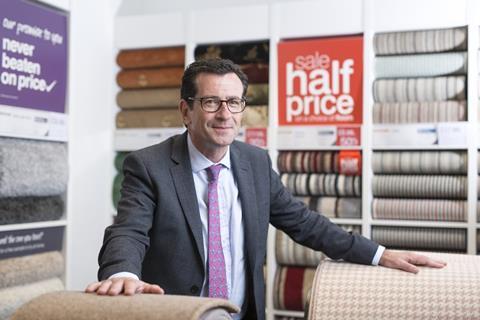 Walsh, after unveiling a 42% dip in pre-tax profits in Carpetright's half-year, told Retail Week that, by the end of 2018, "the entire estate will be refurbished in some shape or form".
The carpet specialist said the refurbishment programme would consist of a mix of full refits, such as the work that has been completed at its Croydon Purley Way branch, and mini refits.
"We don't have to do a complete refit on all our stores because a lot of them are not in bad shape. So some stores – smaller profit-makers – will be rebadged, get new carpet and fixtures and fittings etc," Walsh said.
Walsh explained that "mini-refits", at a cost of around £30,000 per store, make a strong impact and get "very quick, decent returns".
At today's interim results, the retailer said it has ramped up its full-year refurbishment plans, from 100 stores by the year-end to 150. Walsh later told Retail Week he plans to maintain that pace throughout 2017 and 2018.
Walsh said: "It's clear the refurbished stores are outperforming the underinvested estate, so we're confident that ramping up the capital expenditure will deliver the right sort of returns."
Confidence
The boss explained that the improved stores are trading better because of a combination of consumer perception and increased staff confidence.
"Staff feeling good about where they work is so vital. The work is not just at the front of the stores, it's the back-end of stores too, and it makes a big difference."
The retailer, which is currently revamping a store every 2.5 days, said "the problem with a legacy portfolio is it takes time to get round it and sort it out".
"We now think we've got a rebranded, contemporary offer we think we can roll out."