Bathstore has launched in-store augmented reality technology to enhance the bathroom-buying experience for its customers.
Using AR-enabled tablets at participating stores, shoppers can virtually enter, walk around and explore their bathroom designs before committing to a purchase.
The tool – Bathroom viewAR – developed in conjunction with ArtiCAD, marks the next step in Bathstore's journey to becoming a "truly omnichannel" retailer.
Shoppers can now use viewAR alongside Bathstore's 360° room viewer – another of its design services allowing customers to view 3D bathroom designs at a 360-degree angle.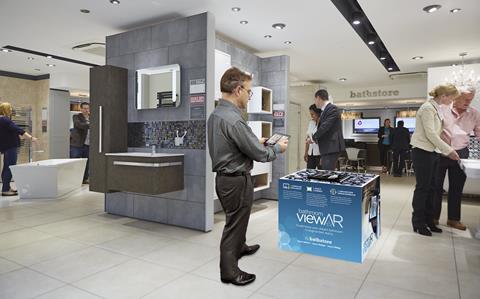 Bathstore chief marketing officer Claire Bayliss said: "Bathroom viewAR is another example of bathstore being at the forefront of innovation and design.
"We are always looking for new and exciting ways to make the customer experience easier and more immersive, from inspiration to installation, and viewAR is the next step in that journey."
The technology will soon be made available for shoppers to use from home using Android and iOS platforms.