Pureplay furniture retailer Made.com was dubbed a game-changer when it launched in 2010.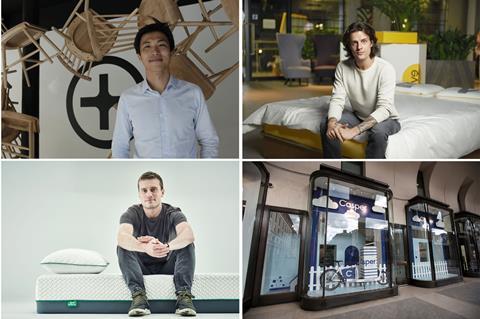 Headed up by co-founder and then-boss Ning Li, the disruptor debunked the myth that numerous bricks-and-mortar stores were required to sell furniture.
Made.com proved there was a market for buying furniture online, but opened a few flagship showrooms in key locations so anxious adopters could touch and try before they buy.
And as the online furniture market expanded, many more pureplays, such as Sofa.com and Loaf, emerged and began to eat into traditional retailers' market share.
Although ecommerce still only accounts for around 15% of the furniture market, traditional home retailers cannot afford to sit still.
As new technology comes to the fore and fulfilment becomes increasingly competitive, the online share looks set to grow.
Spurred into action by this innovation and pureplay prowess, well-established retailers – DFS, Dunelm, Dreams and IKEA, to name but a few – have begun modernising their stores, acquiring etailers and bolstering their omnichannel propositions.
Emerging entrants to the furniture realm are aplenty, but there are a few in particular that are keeping traditional retailers on their toes.
Wayfair
US home and furniture etailer Wayfair, formerly CSN Stores, launched in the UK in 2008 and has become a much-watched business.
Following in the footsteps of Made, the innovative Wayfair is developing augmented reality and virtual reality apps, aimed at supporting shoppers in their online furniture-buying journey.
WayfairView is an augmented reality platform that allows users to scan their room and load in a list of furniture options from Wayfair's database.
Wayfair's virtual reality tool – the Patio Playground – allows users with access to the Oculus Rift VR gaming system to rearrange furniture in life-like spaces.
Wayfair is a global giant in furniture and clocked up $3.4bn (£2.7bn) in group sales in 2016, up 50% year-on-year.
Its international sales, including the UK, Canada and Germany, reached $270m, a jump of 136%.
Last month Wayfair co-founder and boss Niraj Shah said the business was just starting to penetrate the home category in Europe by leveraging its US technology infrastructure.
"The UK business is experiencing significant traction in performing to our aggressive plan," he said.
Amara
Amara, which bulked up its management team last month with the appointment of former House of Fraser director Madeleine Melson as chief operating officer, began life 12 years ago as a small boutique interiors shop in an Essex village.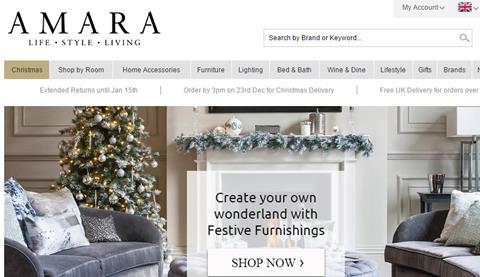 It is now an international home furnishings etailer with websites in eight countries, including UAE, Australia, and France.
The US is its second-largest market after the UK, where 17% of its total sales are now generated.
The etailer has pledged to focus its efforts on "organic traffic acquisition" both at home and abroad in 2017, and to establish a new retention strategy for existing and new customers.
Melson's appointment marks the start of this next phase, as she will be responsible for implementing "best in class" customer experience and setting the retailer apart from its highly competitive peers.
Maisons du Monde
Maisons du Monde is a slightly different, but equally intimidating, beast with its sights set on disrupting the UK furniture market.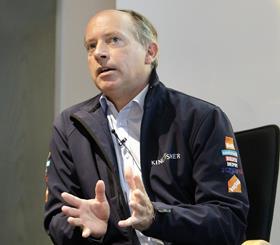 Far from a pureplay newbie, the France-based home and decor specialist launched 21 years ago in 1996 and has a total of 288 stores across seven countries.
The newly floated firm raked in €882m (£766m) in sales last year. Maisons also has websites in 11 countries, including the UK.
Maisons du Monde has vowed to "liven up" the UK furniture market with its "unique style and fresh brand".
It has started to make some noise in the UK with a PR push and launched its first UK-focused brand campaign across TV and digital in October last year.
Maisons du Monde UK ecommerce director Julia Fawcett says the aim of the campaign is to "stand out amongst our competitors and reflect the fun, vibrant nature of the brand".
What's more, retail heavyweight Ian Cheshire – the Debenhams chairman who previously ran Kingfisher – joined Maisons du Monde last year as non-executive vice president.
To attract someone of his stature signals that this is a retailer with big ambitions.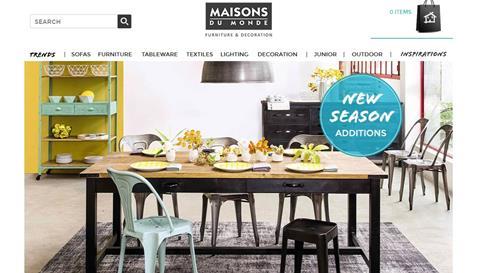 Mattress-in-a-box businesses
An influx of direct-to-consumer mattress firms have rudely awoken some traditional bed retailers.
First on the scene was Eve – founded in February 2015 by Jas Bagniewski, who launched Zalando in the UK.
Now a number of rival brands, such as Casper, Simba and Hyde & Sleep – each with deep-pocketed backers, retailer partnerships and best-in-class fulfilment promises – are satisfying a burgeoning chunk of the market.
Around 10% of mattress sales currently occur on the internet, but Eve's Bagniewski believes there is scope for further penetration.
The mattress etailers offer next-day delivery and, often, a 100-day money back guarantee to tempt shoppers to migrate online.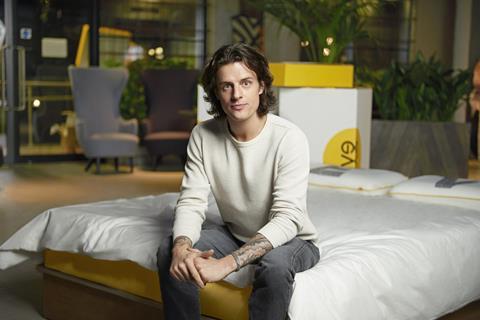 "A lot of customers see it as an efficient way of buying a mattress. It's a product that's typically unpleasant to buy offline. Customers awkwardly lie down to test them out for a few seconds, and it's difficult to understand the choice because they look the same," he says.
With a focus on digital marketing, Eve has been able to grow without the need for a high-street presence. However, it does operate pop-up concessions at department stores including Debenhams, Fenwick and Next.

"Our category will grow in online penetration, but it takes a bit of time and bit of education.
"We're not going to kill traditional bed retailers, but we will continue to take market share from them," Bagniewski says.
Not willing to be left behind, Dreams boss Mike Logue last year backed one of these firms – Hyde & Sleep – and has now brought the manufacturing of the mattresses in-house.
"I still don't see it becoming a huge part of the industry, but it has its place and I'd rather be in it," Logue told Retail Week.
Still, bricks-and-mortar retailers – if they haven't done so already – will have to wake up and smell the coffee, revamping the in-store and the offline experience if they can hope to compete.