As retail mourns the loss of one of its most prolific entrepreneurs, we analyse the revolutionary impact Ingvar Kamprad and his furniture firm had on the industry.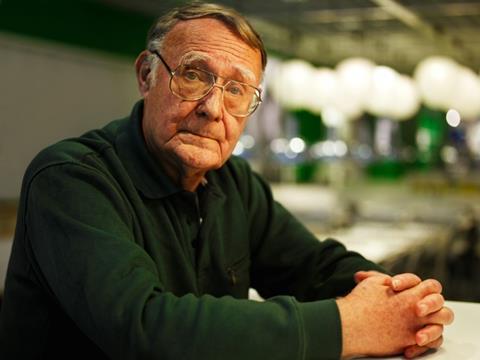 When Ingvar Kamprad founded Ikea in 1943, aged just 17, he could not have foreseen the transformative effect the business would have on furniture retailing, nor on peoples' homes across the globe.
Following his death this weekend, 91-year-old Kamprad left behind a chain of 403 stores spanning 49 countries – and a retail legacy that will far exceed his years.
Here are just nine ways Kamprad's Ikea helped shape retail as we know it.
For the many
Kamprad grew up in impoverished rural Sweden and, while not from a poor family himself, he witnessed first-hand homes that were devoid of space, comfort and light.
This nurtured his determination to create furniture that was both affordable and desirable to the masses.
He blew the idea of the 'target market' wide open and developed the principal of 'democratic design' – finding solutions to everyday problems and solving them without incurring any waste or unnecessary costs.
His efficient and thrifty way of doing business throughout the decades meant that Ikea undercut its rivals and its products remained accessible to "the many people".
Over time, the business rewrote the furniture retailing rulebook and changed the way people thought about furniture.
Where at one time a dining room table, for example, would have represented a large investment, and would have remained in a family home for three or four decades, Ikea introduced the idea of buying a table to be used for three or four years without breaking the bank.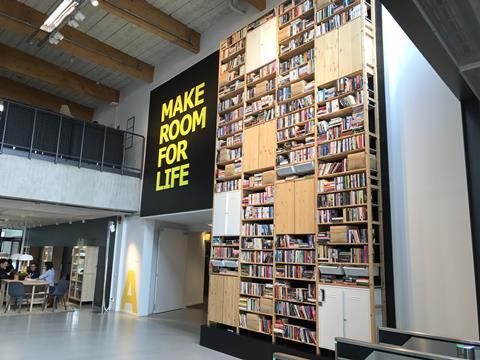 Ikea's Demographic Design Centre in Almhult, Sweden
Flat-pack revolution
After Ikea's fourth ever employee Gillis Lundgren supposedly discovered 'flat-pack' furniture by taking the legs off a table to fit it into his car, the traditional furniture selling model was flipped on its head.
By selling furniture that required assembly at home, Ikea was able to save money on distribution and storage.
This, in turn, meant it could keep shelf prices low. Shoppers were happy to put together their own pieces in exchange for the money they saved at the till.
As ecommerce later crept into the furniture market, Ikea – with its compact, boxed-up wares – was well-placed to tackle home delivery, while other furniture retailers flailed around with awkward two-man deliveries and the need for numerous vehicles.
Instant gratification
In another significant shift away from the traditional model, Ikea did away with long lead times, instead giving its shoppers instant gratification.
Its use of flat pack means it is able to hold a large amount of stock in its stores, so if a household needs a new sofa, it can visit a store and take a flat-packed version home there and then.
As the quick-churn rental market booms and consumers become increasingly impatient and eager for their homes to reflect current fashions, the process of ordering a sofa and waiting a number of months for it to be made and delivered appears increasingly Jurassic.
Home from home
While Ikea's big box shops in retail parks, with winding paths that take shoppers on a long journey through the store, may not today be at the pinnacle of bricks-and-mortar retailing, the firm's take on visual merchandising shook up the principles of furniture showrooming.
Rather than laying out a sea of sofas and beds, with row after row of indistinguishable products, Ikea opted to display furniture in room sets.
"At its newer stores in Reading and Sheffield, the retailer has fashioned entire apartments and homes for shoppers to explore, offering solutions for compact or more energy efficient living throughout the home"
This gave its shoppers inspiration and ideas for their own homes, as well as encouraging additional purchases of accessories.
The 'room set' idea has since been adopted by many other home and furniture retailers – even B&Q has incorporated it to showcase its new bathroom ranges.
But Ikea has now taken it to the next level.
At its newer stores in Reading and Sheffield, the retailer has fashioned entire apartments and homes for shoppers to explore, offering solutions for compact or more energy efficient living throughout the home.
And there's something else about Ikea's 20,000 sq ft mazes that has kept shoppers coming back…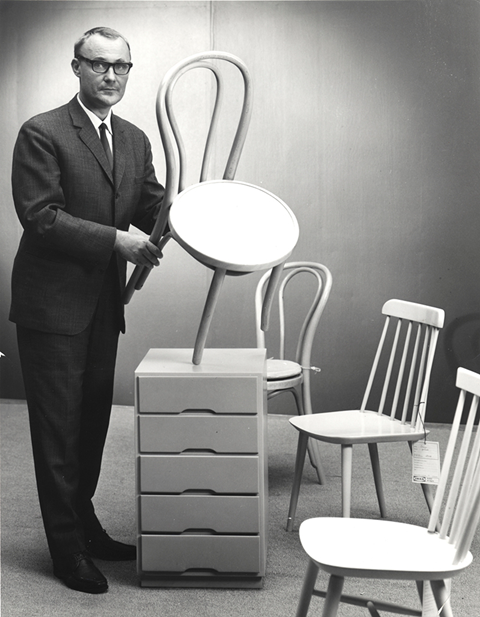 Meatballs
Not only did Kamprad build the world's largest furniture retailer – as a by-product, he created one of the world's largest restaurants.
The feeding phenomenon stemmed from a promise Kamprad made when he opened the first Ikea showroom in Almhult, Sweden, in 1951.
He placed an ad in the paper vowing to give anyone who visited the store on its opening day a free coffee and cinnamon bun. When four times the anticipated number of visitors showed up, Kamprad brought in everyone he knew to help in the kitchen so that he could be true to his word and avoid disappointing anyone from the outset.
The development of Ikea's in-store cafes and crèches enhanced its stores' destination status and gave shoppers more compelling reasons to visit – something overspaced retailers are still grappling to achieve today.
Ikea now feeds more than 650 million shoppers a year and its Swedish-style meatballs have become synonymous with the shopping trip.
Global resonance
Ikea's low-price promise and clean-lined Scandinavian style held universal favour and appealed to households across the globe, allowing the retailer to – slowly but surely – expand internationally.
But its global ventures have always been approached with caution.
"When Ikea first launched in the UK, for example, the business only stocked single duvets and single mattresses, as per the Swedish tradition"
While the way people around the world live is more similar than it is different, there are also nuanced variances.
When Ikea first launched in the UK, for example, the business only stocked single duvets and single mattresses, as per the Swedish tradition.
Ironing out these cultural differences and putting the products through rigorous temperature testing to ensure they can endure the full spectrum of climates has been the secret to its success abroad.
Saving the planet
In a pamphlet entitled The Testament of a Furniture Dealer, written by Kamprad in 1976, the entrepreneur thunders: "Wasting resources is a mortal sin."
This attitude not only feeds into the Ikea design process and frugal day-to-day running of the company, but is a mantra Kamprad himself adhered to throughout his life – despite being a multibillionaire.
The business now leads the way on sustainability and is set to open its most environmentally friendly store yet in Greenwich, London, later this year.
Ikea, which started out aiming to keep its prices low, now feels a responsibility to lead by example and encourage its shoppers to also build planet-friendly, sustainable homes.
The retailer has switched its entire lighting range to energy-efficient LED, sources all of its cotton from more sustainable sources and is working towards 100% renewable energy – producing as much as it consumes.
People agenda
All retailers know that a low staff turnover makes good business sense.
Long-term members of staff accrue a high-level of knowledge – vital given the often complex nature of furniture retailing – and recruitment costs money.
But how many businesses can say they actively invest in rewarding staff loyalty and bang the drum for their rights to the extent Ikea does?
In a move that made retail history in Ikea's early days, Kamprad rewarded every member of the company with an all-inclusive holiday to Spain, at a time when most Almhult locals had never left Sweden, let alone been on an aeroplane.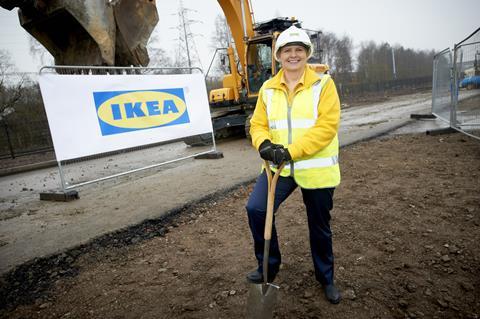 UK and Ireland country manager Gillian Drakeford
In the UK today, Ikea is an ambassador of the real Living Wage and Retail Week's Be Inspired campaign, designed to inspire and promote the careers of successful female retail leaders.
Ikea's British division is run by one of its first UK employees, Gillian Drakeford, who ascended through the ranks after starting on the shopfloor of its debut store in Warrington 30 years ago.
Her long tenure and career progression is not uncommon at Ikea – a retailer that has actively rewarded loyalty since its inception.
Constant evolution
Being on the front foot is one thing, staying on it is another.
Ikea's constant innovation is born out of another of Kamprad's values: "Most work is yet to be done".
This approach ensured Ikea retained relevance as the world changed around it, even in its early days as Sweden underwent dramatic and radical modernisation.
In Ikea's homeland, where its innovation and design centres are situated, teams of dedicated "future-gazers" keep it ahead of the curve and make sure it's prepared for any eventuality.
For example, one of its newest initiatives – Co-create Ikea – is helping the retailer stay in tune with changing consumer habits and needs.
"This is not a side project," Co-create Ikea project manager Mikael Ydholm told Retail Week. "We're democratising product development."
Ikea is also leading the way in 3D imaging, virtual reality and motion media in its digital lab and has launched its augmented reality app in collaboration with Apple to help time-poor shoppers make buying decisions.
In line with the 'do it for me' trend, Ikea has acquired Task Rabbit – a firm that can help shoppers assemble their flat-pack furniture. It is also making waves in the furniture rentals space as a new zeitgeist – the dwindling importance of ownership – emerges.
"Innovation is kind of a buzz word, but Ikea was born as a challenger," Ydholm says.
And while the man who conceived one of retail's most disruptive and iconic firms has passed away, Kamprad's personal mission to create an everyday better life for the many people remains very much alive and well.