Matalan surprised the industry by launching an online bathroom venture. Faced with a competitive market in new territory, how will it fare?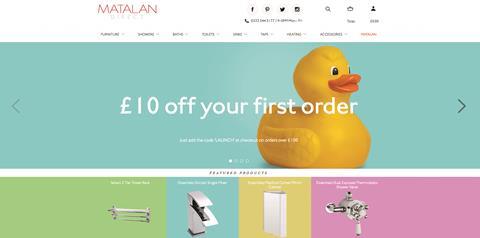 An "unexpected" move is how one analyst described Matalan's foray into the bathroom market.
The retailer, better known for selling middle-of-the-road fashion and homewares like candleholders and cushions, has made a bold entry into the £688m bathroom market with the launch of a separate online-only venture selling baths and related products including tower rails and radiators.
Matalan won't stop at bath tubs and toilet seats though – the retailer plans to take on the likes of IKEA and John Lewis to become a "complete home furnishings and improvements destination".
Armed with such lofty ambitions, the retailer has a secret weapon in its armoury – the venture isn't exactly a brand-spanking new online spin-off.
In fact, the launch comes courtesy of an acquisition after Matalan bought Leeds-based Earth Bathrooms last month from entrepreneur Shane Quigly, the man who is now heading up Matalan's new bathroom spin-off, Matalan Direct.
While details are slim at this stage, it's thought that Matalan would have access to the customer database and suppliers of Earth Bathrooms – itself a company that was reportedly turning over £18m.
"A natural expansion"
Matalan managing director Jason Hargreaves said: "We are looking to cater for Matalan's existing 12.5m customer base who are already highly engaged by the brand's fast-expanding homeware offering.
"Matalan Direct feels like a very natural expansion for Matalan and its positioning will complement our 'Made for Modern Families' proposition.
"By opting for an online platform, Matalan Direct will be able to offer an ever-expanding range of products without the restrictions of in-store on-boarding constraints.
"Our target is to give customers maximum choice and convenience whilst remaining affordable which is why our range will retain our value price point but will also offer options to suit any budget."
Lukewarm response
However, analysts weren't exactly brimming with confidence about Matalan's new venture. Verdict retail analyst Matt Walton decribed the new retail offer as an "unexpected" move.
"It will be challenging for them to make headway. They'll need to do a lot to drive awareness"

Matt Walton, Verdict
"There's a lot of competition in the specialist space such as Victoria Plumb and Bathstore and then there's companies like B&Q and Homebase.
"It will be challenging for them to make headway within the sector. They'll need to do a lot to drive awareness," Walton told Retail Week.
Conlumino senior consultant George Scott said Matalan's move made partial sense after its fashion sales performance had become "squeezed" in recent years.
"I can understand why they're moving into big ticket items with higher margins," he said. "If they get people to buy bigger ticket bathroom items, then they're more likely to follow up with homewares and decoratives."
Doubts
However Scott raised doubts over the execution. "I think they may have to look at the branding if it doesn't work out in the short term. Matalan Direct is lazy branding," he added.
While Matalan has said it will move into home furnishings at a later stage, Walton argued the retailer should have ventured into that category first. "I think items like chest of drawers or smaller flatpack furniture would have been more of a fit," he suggested.
"It's not inconceivable for a pure-play retailer to do well. It's how they present it to their customers"

Matt Walton, Verdict
The success of Victoria Plumb demonstrates the room for potential for online bathroom retailers, Walton added. He said: "It's not inconceivable for a pure-play retailer to do well. It's how they present it to their customers."
Walton said Matalan's lack of an installation service would present a challenge, though, and also questioned the timing of the launch, claiming it should have happened "four to six months ago" to capitalise on faster growth in the housing market.
With a lukewarm analyst response to the new bathroom venture, Matalan will be hoping customer reaction is more akin to stepping into a hot bubble bath, rather than tentatively dipping their elbow in.