Could a stronger housing market provide the lift the DIY market and wider retail sector so desperately needs?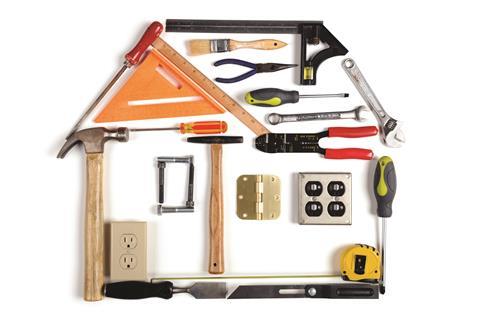 Estate agents and home improvement retailers share a common interest - the state of the housing market. Both professions will be rubbing their hands with glee over the deluge of statistics published in recent months indicating a recovery could be on its way.
House prices have been climbing, albeit at a modest rate, and mortgage approvals have soared from last year, helped by the Bank of England's Funding for Lending scheme, which provides banks with access to cheap credit.
The first leg of the Government's Help to Buy scheme, providing borrowers with access to a 20% equity loan for new-build homes costing less than £600,000, has also given the housing market a lift.
In addition, housebuilders say more people are visiting new developments and more new homes are being sold than ever before.
A further catalyst is likely to come from the second part of the Help to Buy scheme, which will be launched in January and include all homes - both new builds and existing ones.
This is expected to release pent-up demand among those who have struggled to put together the hefty deposits that lenders have been asking for.
Bank of England Governor Mark Carney's recent commitment to keep interest rates low until unemployment falls will also help homeowners' confidence in their finances.
Economists expect that house prices will climb over the next few years. Forecasting group the EY Item Club, which predicts 1 million people will move house this year, has pencilled in growth of 2.3% this year, 5.5% next year and 6.3%in 2015.
A certain trigger
The green shoots of recovery are certainly good news for home improvement and furnishing retailers, which stand to benefit from a healthier housing market as homeowners look to spruce up their new homes.
Carl Astorri, senior economic adviser to the EY Item Club, says: "This is one of the life events that causes people to spend money on furniture and fittings of various types. It triggers you to buy new curtains and carpets."
The resultant increase in house prices will arguably provide the bigger catalyst to retail sales by making people feel richer and therefore more inclined to splash out on home improvement projects and other household goods.
Ernst & Young head of retail Julie Carlyle says: "We see a direct correlation between house prices, what they are doing and how much retail spend is."
It appears that this has already been happening across the Atlantic where the US housing market has been delivering annual price increases in the double digits. US giant Home Depot is reaping the benefits. Its latest figures published in May showed a 4.8% increase in sales. And the most recent US retail sales data showed purchases at furniture and home furnishing chains rose 2.4% in June.
This all bodes well for British retail. Car sales have been going through the roof this year and electrical goods have been in demand. However, there is little evidence so far that people are doing much work on their house. The latest figures from the British Retail Consortium showed DIY fared well in July thanks to gardening sales in the sunny weather. But furniture, flooring and home accessories suffered their worst performance for a year.
A long-term change?
With the UK housing market recovery still in its infancy, shopkeepers are understandably cautious about when they will start to feel the benefits.
John Lewis buying director Paula Nickolds says: "The huge slowdown in housing transactions we've seen during this recession has undoubtedly impacted the big-ticket market in items such as furniture, floor coverings and window dressings.
"Because of how long the recession lasted, we have seen the replacement cycle kick in - people replacing items because they've worn out for instance - but the million dollar question is if we're starting to see the beginnings of a recovery to drive real sales growth."
She adds: "At the moment, the homewares market is still significantly smaller than it was in 2007, so it's still an incredibly tough market and I'd say too early to tell if an uplift seen in the London market will translate to a long-term trend for the rest of the UK."
In the DIY sector, B&Q reported some good news last month when it posted underlying sales were up 1.9%. But with sales of outdoor and seasonal products up nearly 20% it would appear that this growth was driven by better weather rather than the nascent housing market recovery.
It will be interesting to see how a housing market recovery does impact the home improvement market and whether both the DIY and 'Do It For Me' sectors are given an equal helping hand. Ian Cheshire, chief executive of B&Q owner Kingfisher, has made it clear he believes a return to a more buoyant housing market will reverse the decline that has hit the DIY market in recent years.
Statistics indicate Britain has fallen out of love with DIY. The market has shrunk to £7.54bn in 2012 from £9.76bn in 2004, but Cheshire is convinced this reflects a lack of first-time buyers rather than a more fundamental decline.
Investors seem to think he is right - Kingfisher's shares are up more than 40% this year to date.
In contrast, Home Retail-owned Homebase has been trying to position itself more upmarket into the Do It For Me space after battling falling profits, which halved in the year to March 2.
It believes that shoppers are time-poor, haven't had DIY skills passed on by their parents and are increasingly keen for tradesmen to do refurbishments for them.
Homebase has positioned itself as a home enhancement retailer, taking on John Lewis but at a lower price point. It has launched a new store format to reflect this and has refurbished five shops, where it is experiencing a 20% uplift in sales. The retailer is also pushing more upmarket brands such as Habitat, which Home Retail bought 18 months ago, and other exclusive brands such as Odina and Schreiber.
Homebase's latest figures showed it had reversed its sales decline in the three months to June 1 and it is hopeful that the Government's measures to breathe new life into the housing market will give it a further boost.
The next rung up
Chris Wermann, corporate affairs director at Home Retail, says the first part of the Help to Buy scheme is good news because the new homes will need furnishing.
He believes the retailer also stands to gain from the second leg of the scheme because house movers will be looking for new kitchens and bathrooms to smarten the homes they buy.
Wermann says: "January is going to be a very interesting time and if we get it right we can be part of the next generation of homeowners."
He points out that some of those who have been battling to climb onto the housing ladder would have saved far more than the 5% deposit that they will need when the scheme is extended, leaving them with excess cash that they may spend on their houses.
But he admits there is no sign yet the housing market is providing a lift.
Topps Tiles is also likely to receive a boost from a healthier housing market, according to City analysts, and its shares have soared 74% this year in anticipation.
But sales in its third quarter fell 1.5% and chief executive Matt Williams is cautious. He points out that, while house prices are heading in the right direction, the increase is from a low base. House prices are still 10% below their all-time high of 2007, according to Nationwide.
Williams hopes for a sustained increase in house prices, which he says is more important to the business than housing transaction numbers.
Williams says: "Our customers are usually doing one of two things. They are usually refurbishing because they are moving into a new house and don't share the same taste as the former owner, or they are looking to refurbish."
He said the slump in housing transactions inevitably hampered the business it generated from house moves, pushing it to a 12% to 13% slice of sales from about a quarter at the peak in 2007.
Williams adds: "People refurbishing their existing homes is a much bigger part of Topps' business and that bit is dependent on consumer confidence."
Carpetright's business is also viewed as closely correlated to the housing market but its recent numbers were
disappointing. Sales were down 1.9% as sunny weather kept shoppers in the garden.
Other retailers that could be lifted by a housing market recovery include Dunelm Mill and Marks & Spencer. But so far it is only at the hard end of the DIY market and in the builders' merchants category that any significant uplift has been seen.
Wickes reversed its sales decline in May and June, lifting revenue by 8.6% thanks in part to improving consumer confidence, while Howdens Joinery last month reported that recent depot sales were up 7.6%.
Delayed effect
So when will retailers such as B&Q, Homebase and others share these improving fortunes?
Analysts point out there is likely to be a time lag. It can take a while for people to complete their house sales and for their finances to recover after paying out stamp duty and solicitors' fees.
Cantor Fitzgerald retail analyst Freddie George expects the impact to start to come through at the beginning of 2014.
"We will start to see things move next year," he says.
Economists at Capital Economics forecast that the DIY market will grow by 3.5% this year, 2% in 2014 and 3% in 2015.
But they express concern about the impact that higher house prices could eventually have on consumer spending.
In a recent note, Capital Economics said: "Higher house prices will create losers, including those renting and homeowners wishing to trade up to more expensive properties. They could well reduce spending in response to higher prices."
But it gave some hope to the troubled DIY and home improvement market. "DIY and home maintenance, which attract a large share of elderly households' budgets, should benefit from demographic change," it observed.
The recovery in the housing market is clearly expected to have some positive impact on home improvement retailers.
But the extent and how that is distributed between them remains unclear.
Whether it is the housing market recovery or the longer-term impact of the growth of the grey pound, the outlook for the sector looks a little bit brighter than it has done for several years.