How attractive is the garden centre market and how do the new owners of Dobbies plan to cultivate the former Tesco-owned business?
"I really have wanted to buy a garden centre for about 11 years," says Andrew Bracey, the former Ocado chief financial officer who is prominent among a group of investors that snapped up Dobbies from Tesco last month in a deal worth £217m.
So what is it that makes the market so appealing?
Bracey sees garden centres as being perfectly positioned. As traditional retail and leisure activities increasingly converge, they have gained a unique appeal as destinations that cannot be replicated online. And that means there is plenty of opportunity for growth in what is currently a fragmented market.
"Shopping centres are seeing less footfall but garden centres are seeing more, because people can come for a coffee or lunch and then browse a range of things – from plants to bikes and kitchens"

Andrew Bracey, investor
He identifies the market as ripe for innovation as consumer trends shift increasingly towards shopping as a leisure activity, rather than a means to an end.
He says: "There's been a huge divergence in the shopping mission and reasons for visiting a garden centre have been reinforced.
"Shopping centres are seeing less footfall but garden centres are seeing more, because people can come for a coffee or lunch and then browse a range of things – from plants to bikes and kitchens."
Consequently, he sees the sector as resilient: "I wouldn't say it was recession-proof but it's resilient because it involves only a discretionary spend and people value leisure activities and doing things as a family."
Growth market
And it is possibly for this reason that the market is growing as fast as it is – the top 100 garden centres are growing on average over 10% year on year and the market overall generates sales of £3.1bn a year. "Other than online, no other sector is seeing growth like this," Bracey says.
And yet the garden centre market in Bracey's view is "the most fragmented sector across the piece", with great scope for consolidation.
"In most other retail sectors there is a market leader and a long tail of smaller operators, but the garden centre sector has only a handful of larger players and is then dominated by people with between one and three stores," he says.
Combining a desire to "make a change for the better" and the opportunities for innovation and consolidation in the market, the group of buyers set their sights on Dobbies.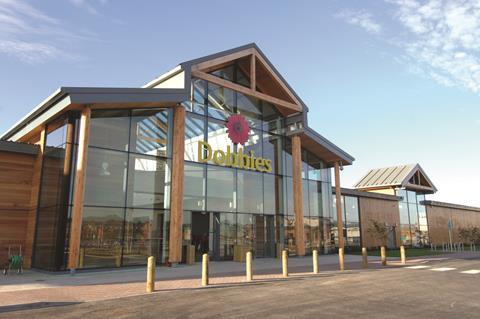 Why Dobbies?
Bracey says that of the "two garden centres of interest" in the market, "the iconic Dobbies is by far the best platform".
He was attracted to Dobbies because its 35 purpose-built stores, measuring between 45,000 and 50,000 square feet, are on large plots in "pretty locations" and are engineered to cater for multi-format retailing.
Dobbies is also far from a one-trick pony. It has a varied sales mix, with plants making up approximately 25% of sales, garden-related items and tools 20%, restaurant takings 25% – an operation exceeding £35m a year – with concessions making up the rest.
Bracey and his team like Dobbies' concession model because it is different from what can be found elsewhere. "The Lakeland concession in Sterling is extraordinary. It's so modern, well-lit and is a great operation," he says.
He believes that Tesco was a "very good custodian" of Dobbies.
"Tesco invested time and capital into the business and built 14 purpose-built stores.
"Under our ownership we'd hope to continue this growth, thinking not only about the money, but caring about the operation, the platform, the stores and the people," he says.
Plans to make Dobbies blossom
Bracey sees scope for more stores – initially in locations such as Ipswich, Warminster, Winchester and Salisbury, where "stem mileage is limited".
However, he says the group has no intention of adopting a "cookie-cutting" approach, or becoming a "large amorphous corporate group".
"There's a degree of locality to a garden centre and it's important to continue with the feel of a family-run business"

Andrew Bracey, investor
"There's a degree of locality to a garden centre and it's important to continue with the feel of a family-run business," Bracey explains.
The owners will capitalise of their shared retail experience to improve Dobbie's online offer. "There are some things in life you don't need to see and feel first – like eight tonnes of mushroom compost – so some gardening products will transition online quite well," Bracey says.
While there are no plans to buy other operators, Bracey admits that if an attractive property comes up for sale, Dobbies would be in a strong position to "take a look" – an advantage of having an "extremely conservative funding structure and long-term supporters," he explains.
Ultimately, however, reflecting the nature of this acquisition from beginning to end, Bracey says that "the best thing to do is be respectful of how it's been run before, the plans in place and focus on the changes current colleagues might like to see".
Not an ordinary deal
The acquisition of Dobbies was an "old fashioned" deal, according to Bracey.

It was not structured in the way that has become typical over the past few decades and did not revolve around debt or the financial engineering often associated with private equity, he maintains.
In effect, a group of experienced retail veterans, investors and friends "linked arms" – as fellow investor Barney Burgess puts it – to secure Dobbies.
They adopted a "straight down the middle" approach to negotiations, rather than arguing over every detail.
Burgess – who previously worked at Tesco and was therefore familiar with it and Dobbies – says: "We are as straightforward as we can be in everything we do.
"There are worrisome examples of how retail sales can go wrong and not every purchaser makes a good custodian of a business.
"But we were very consistent with our genuine interest in the business and in our resolve to interact professionally and transparently – never moving the goalposts or operating at periscope depth.
"We worked away on our own agenda, working vigorously to understand what it would take to succeed, and the Tesco team came to trust we would be a reliable counterparty."
The deal was led by Bracey's Midlothian Capital Partners and Hattington Capital; the new Dobbies owners are Bracey, Burgess, Aidan Clegg, Neil Currie and Frederick Goltz.