Carpetright's sales rebound is being driven by new store formats as well as a broader product range, which has attracted new customers to the floorings giant, according to boss Darren Shapland.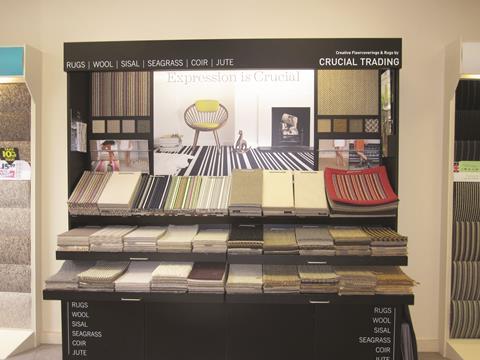 In Carpetright's first large-scale store refit programme in years, the retailer has revamped 180 stores to its new Aqua design, which features fresh branding, better navigation and improved merchandising.
Sales in the Aqua stores are 10% ahead of the rest of the estate and Shapland said the return on investment would be "a bit less than a year". The retailer has completed 130 full modernisations at a cost of £50,000 each, and 50 refreshes, at a cost of £20,000 each.
Carpetright revealed last month that UK like-for-likes returned to growth in its full year to April 27, jumping 2.2% against a 0.2% slip the previous year.
Shapland said that growth has also been propelled by overhauled price architecture. The retailer has stretched its price points from £10 to £50 a metre to £3 to £120 a metre.
Carpetright has expanded its own-brand value range Home Essentials to its smaller format stores, while also selling more high-end product across the estate, including quality brands such as Brintons and Westex.
"We've put more product at the top and the bottom," said Shapland. "Our sales are coming through the top end and the lower end. We're not taking sales away from the core offer, we're making more sales that are incremental."
The retailer is also piloting a distribution model enabling it to service some smaller stores from a larger shop in the area.
Shapland said the model can be rolled out to more large towns and cities. "This is a big move on," he said. "We're offering the whole range out of 3,000 sq ft."
Carpetright is also testing a number of initiatives in its lab store in Ipswich, which Shapland said could be rolled out if successful. He said the retailer wants its out-of-town stores to "look more like a shop rather than a shed".
The Aqua format includes a revamped frontage featuring larger windows and a new fascia that, on larger stores, includes a reference to Carpetright's growing beds business Sleepright.
In-store, carpets have changed from red to cream while improvements have been made in the merchandising of beds areas to make them more like shop-in-shops. Price guides help the customer determine the true cost of installing a carpet based on room size and product has been laid out more efficiently.
Navigation has also improved and the volume of price-based point of sale has been pared back. "You can see what we sell as soon as you come in," said group commercial director Martin Harris. "We've bought brands in, giving a more independent feel. We've got lots of variety. We've created space and increased the amount of product."
Shapland said the Aqua format enables Carpetright to differentiate from its rivals. "It's a big move on in terms of simplicity and ease of layout," he said.
Carpetright is continuing its push on high street stores, particularly in the capital, where it wants between 10 and 20.