With news that John Lewis is preparing to enter the opticians market by trialling two stores, what competition will it face?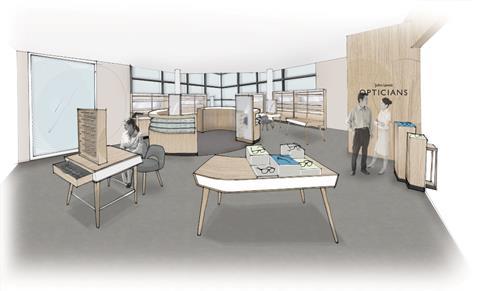 Why are we talking about this now?
This week John Lewis unveiled plans to enter the opticians sector as part of an ongoing diversification of its offer. It will open two stores in the autumn in its Westfield Stratford and Cardiff shops to test the market, with a potential national roll-out in the frame if all goes well.
How big is the opticians market in the UK and is it growing?
A steady rise in overall sales of optical goods is set to continue according to Mintel, which puts the size of the market at £2.82bn in 2013. If things continue as they are, the market will be worth £3.21bn by the end of 2018, and could exceed that.
Spectacles still make up the bulk of the market, accounting for around 60% of the total spend. With a population that is ageing and growing – the UK population is set to grow by 3.9% by 2018 – combined with that fact glasses are far more fashionable than they ever have been, means that this share is likely to grow.
What retailers is the market made up of?
Specsavers, which sells spectacles and services at the affordable end of the scale, is by far the market leader with a third of the share, followed by Boots with 14% and Vision Express with 11%. It's also a market rich with independents, which last year claimed just under a third of the spend.
But both Boots and Vision Express have been working hard to increase their coverage. Vision Express has been growing its estate and acquiring customer databases after it bought 65 stores from Optical Group Rayner & Keeler Opticians in January, rebranding 38 stores and closing the remainder. It also acquired 12 Crown Eyeglass stores in 2013, keeping four open. And it bought online contact lens retailer Lenstore in December.
And Boots has recently changed its offer to focus on a healthcare-led customer service proposition.
Tesco and Asda might only hold 3% of the market between them, by spend, but the former already has 200 opticians in its stores, and Asda has 80 and counting.
For a market with lots of competition, what are the challenges John Lewis faces?
The market might be crowded, but Conlumino managing director Neil Saunders says it could still do with a shakeup.
"It's not very well differentiated," he says. "The existing players are much of a muchness and someone who could come in and offer something more funky and fresh would be successful in the way that Warby Parker has done in the US."