Health and beauty retailer Holland & Barrett has this week rolled out its loyalty scheme nationwide, which it hopes will increase basket size and customer frequency.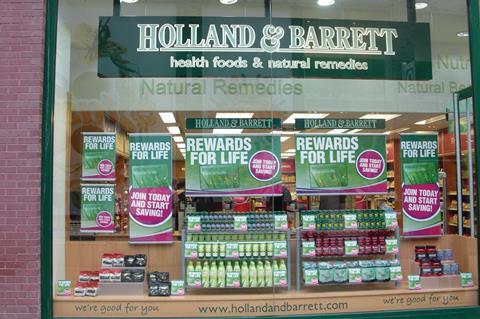 The card-based scheme, called Rewards for Life, offers customers four points per £1 and will be promoted in-store and backed by a TV campaign with its celebrity face Gethin Jones.
Holland & Barrett – owned by food group NBTY – trialled the scheme in April in 40 stores in the Midlands and the Northeast. So far it has signed up 200,000 to the scheme and it forecasts to have three million holders in the first year.
Group director of marketing Phil Geary said: "Holland & Barrett has very loyal customers and we believe the scheme is rewarding those customers, as well as hopefully attracting new ones.
"The average customer is being squeezed and they want money off products right now so we will continue with our promotions, but they also want added benefits and that's what the reward card offers."
He said offering four points per £1 puts the rewards "on a par with Boots" and is "up there with the best loyalty schemes".
Geary said Holland & Barrett forecasts the card will increase basket size by 30% and will up the average customer visits by two per year. At present, a typical customer will make six visits per year.
"It's also about getting a better understanding of our customers," said Geary. "The first year will be all about getting customers signed up, but the second year will be about working that database and finding out exactly what they want."
Holland & Barrett will also work with suppliers to give special offers to customers. He said ideas for the future include offering free passes or discounts to sports clubs or beauty clubs.
"There's a lot we can go for," said Geary.
Customers can receive reward updates via email or post.