Boots has teamed up with Jamie Oliver to launch an exclusive range of lunchtime food products.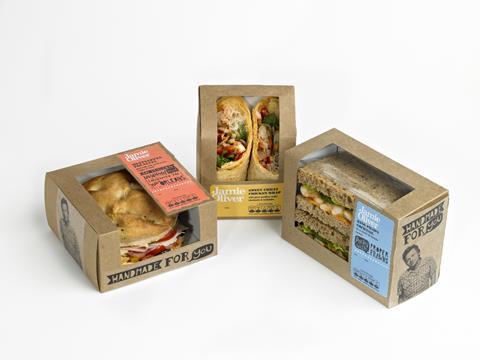 Oliver, who ended a long-term relationship with Sainsbury's last year, has created the Jamie Does Lunch range for Boots, which hits stores today.
The range will be available in 100 Boots stores located at "prime commuter sites" across the UK, making it convenient for lunchtime customers.
The range will complement the health and beauty retailer's existing Shapers meal deal.
The premium range will consist of 21 options spanning sandwiches, wraps, salads and dips and will include Empire chicken salad, Bombay potatoes and Indian carrot salad.
Prices will start at £1.95 and shoppers will be offered 50p off the products until November 13.
The launch will be supported by a PR campaign as well as in-store point of sale promotions.
Alliance Boots health and beauty chief executive Alex Gourlay said: "The introduction of the new Jamie Does Lunch range is another positive step in the expansion of our healthy, convenient food offering and we are pleased that this will help us in our commitment to meeting the needs of our customers."
Oliver said: "We've only used the very best ingredients to make sure everything is bursting with flavour and, because it's at Boots, one of our tasty, nutritious options is never too far away."
Retail Week revealed in May Boots is looking to significantly increase its share of the food market.
Boots UK research revealed just 4% of people always make the effort to vary their lunch choice on a daily basis and 34% of us rotate between just three different lunchtime options.
Boots teams up with Jamie Oliver for lunchtime range
1

Currently reading

Boots teams up with Jamie Oliver for lunchtime range

2

3