Retail Week finds out what Boots has been doing in America following its tie-up with US drugstore Walgreens as it rolls out its beauty offer in New York.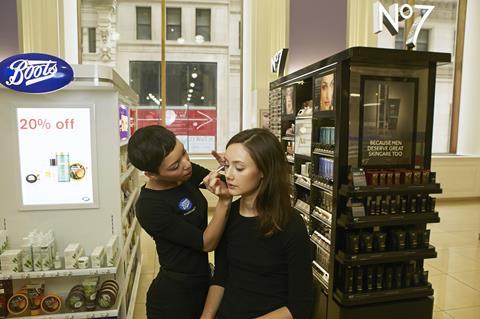 Britain's biggest health and beauty retailer, Boots, wants to change the face of beauty in the US as it sets its sights on smoothing out wrinkles across the city that never sleeps, New York.
After dominating the UK's high streets in health and beauty, Boots is seeking to conquer the US, backed by its merger partner, drugstore giant Walgreens.
Boots' US plans stem from the ground-breaking 2012 deal in which Walgreens bought a 45% stake in Alliance Boots with the intention of merging next year to become a pharmaceuticals powerhouse.
Speaking extensively for the first time about the US operation since the deal was struck, Boots US managing director Gordon Farquhar is heading a huge piece of work that is set to change the way US shoppers buy beauty.
"Ornella [Barra, Alliance Boots chief executive of the pharmaceutical wholesale division] asked 'can you come here and transform beauty in the US?'," Farquhar remembers, unfazed.
Farquhar has worked across Boots for most of his career. In 2006 he took a role at the Co-operative Group but returned in 2009 as managing director at Boots International.
Since becoming Boots USA boss last year Farquhar has been getting to grips with American life.
"It's very much mass-play or premium-play in the US. We can create the bridge between mass and premium," he says.
Farquhar is based in New York, where the retailer is rolling out its offer across Walgreens stores through its eponymous Duane Reade fascias, of which there are 260 in Manhattan alone.
At present Boots retails products in 15 stores in Manhattan but it is opening at a rate of eight stores per week and will get to 150 stores on the island by the end of August.
The expansion in New York comes after Boots launched its No7 offer in a Walgreens store in Hollywood, California, in 2012. Boots then extended it last year to Phoenix, Arizona, where it began selling the full offer in 60 Walgreens stores and a more select range in a further 189 shops. It also has a presence in Boston, Washington and Chicago.
But it is not the first time Boots has entered the US. It has been selling products through 1,770 Target stores since 2007, which helped Boots generate $100m (£60.2m) in US sales last year. The Walgreens and Duane Reade stores complement the existing offer, says Farquhar.
And it's not only Boots' No7 cosmetics brand that is on sale. Boots has exported its Botanics, Extracts and Expert brands, hair care brand Mark Hill, spa bath range Champneys and anti-ageing range Protect and Perfect. In total the offer comprises 450 SKUs.
Farquhar says Boots' products retail in the US at a slightly lower price than in the UK to stay competitive, but it is not simply the offer that will make American shoppers buy the products.
Service is key and Boots aims to place a beauty adviser in almost every location to offer customers advice – an innovation in US drugstores.
"By and large in the US shoppers go to a department store, they sit in a chair and [have a makeover] or they go to a drugstore and help themselves. There's no additional advice. There are only pre-packs so you can't test them," Farquhar explains. "The Boots offer is in contrast to the experience a customer might have in make-up stores Sephora and Mac [in the US].
"The Boots offer is for customers who want to look good. We stretch the boundaries of how they look without scaring them [away].
"Accessibility is a strong part of the offer, with great quality products at affordable prices and the look and feel of a department store."
Modern stores
Alliance Boots executive chairman Stefano Pessina says Boots' US performance is "not bad" so far. He observes that it is crucial to get the Boots offer into more modern stores. "The most important thing is that the Boots brand is very well-received. With the flagship stores in cities like New York they are better prepared [for Boots' offer]," he says.
New York's Walgreens and Duane Reade stores have a much more premium feel – light, bright and well-spaced stores, compared with rival CVS's somewhat lacklustre interiors and infamous grey carpets.
Farquhar says the reaction in New York has been positive. But Boots has had to ensure it is hitting the right note with US shoppers. It has done that by not assuming the market is the same as the UK, and Farquhar says one of the biggest challenges has been to identify the nuances of American consumers versus their British counterparts.
"We've found that since 2008 there has been a real change in the way people shop [beauty] brands in the US. It is the same as the way they shop fashion now," he says. "It's like on Fifth Avenue. You will see Chanel but you will also see Zara and Joe Fresh, so now they mix it all up.
"The same goes for beauty. It's about having the opportunity to buy top-tier but also have some mass lines," he says.
That represents an opportunity for Boots – although this way of buying beauty is entrenched in the UK, it is still a growing trend in the US, Farquhar notes.
Additionally, Farquhar sees an opportunity to replicate Boots' UK success with its 'indulgent bathing' category through its exclusive tie-up with spa brand Champneys. "A lot of brands do big bottles here. Now you have a different feel that you wouldn't usually get in a drugstore," he explains.
Boots has found a big opportunity in men's skincare, which is an under-catered-for market in the US. Last year it rolled out its No7 Men range to all of Walgreens' 6,000 stores. Farquhar says: "Now No7 can be positioned as skincare irrespective of sex. In the UK it is a women's skincare brand with a men's range. But here we can start over."
Boots has also had to tinker with the packaging. Because all its moisturisers include sunscreen, which is classified as a drug in the US, different information has to be printed on the products.
British identity
Boots has also had to be aware of American spelling. Careful not to lose its British identity, the retailer has kept British spelling on its packaging but on point-of-sale material it is changed from 'colour' to 'color' and from 'moisturiser' to 'moisturizer', for example.
"It is part of our heritage and being British is huge here. It's quite bizarre," Farquhar says, explaining that the Jubilee and the London Olympics in 2012, Prince William and Kate Middleton's wedding and the birth of royal baby George have created a buzz around Britishness.
"We'll never play that overt British thing because we want to be an international brand. Our roots are in Britain but our appeal has to be international," Farquhar says. "If you are too British, you get put into a box that you can't control."
Boots' UK heritage is particularly strong and its Nottingham base is crucial to its success. Farquhar says Boots is a unique proposition to US analysts because of its vertically integrated model. Boots develops and manufactures its own products at its Nottingham facility, BCM manufacturing.
"BCM is FDA-approved. And you can see the penny drop among the US analysts when they hear this," Farquhar says. The approval means Boots is able to manufacture a variety of products and keep control of costs and its brand. BCM was responsible for the No7 Protect and Perfect serum that took the UK by storm in 2007 when it was scientifically proven to have anti-ageing effects. It drove women to queue for hours and they were even restricted to buying just one pot at a time after stock sold out. It is now Boots' best-selling product in the US.
"[Protect and Perfect] has replicated across the US the same as the UK because it is proven to work," says Farquhar. "The US consumer is very savvy. They want to know what's in it and if it's clinically proven."
Boots' growth has meant more investment in BCM but Farquhar says there are no plans to replicate a Nottingham base in the US just yet. "We would never like to lose the control of the IP as it is an FDA-approved manufacturer," he adds. "But we also recognise the change of volume."
Farquhar says the social aspect of shopping is very strong among American consumers who are highly influenced by recommendations from friends and family, or celebrities and magazines.
Boots' reputation was boosted when Good Housekeeping gave its Seal of Approval to four No7 products in 2011, including the famous serum.
As seen on TV
Boots has also been building its brand awareness through product integration, using celebrity endorsement on daytime chat shows.
Farquhar says the ability to reach people through such advocacy is powerful. Boots products were featured on the TV show Dr Phil recently, which reached four million viewers. Reality TV star Sharon Osbourne also helped when she recently went off-script and told US viewers that the Protect and Protect serum was like "gold dust" when it launched in the UK.
Farquhar expects his transformation of US beauty to take five to 10 years. Brand awareness will be primarily driven by steady openings in more Walgreens stores.
So if Boots is rolling out across the US, what about Walgreens' impact on Boots UK?
Pessina says Walgreens' food offer will influence Boots stores in the UK. "They have a much wider range of food and we will analyse whether we can sell some of this food in Boots. But the market is different and food is not a very high margin category."
Duane Reade and Walgreens stores have an offer similar to a grocer's. It includes frozen food, alcohol, fresh food, a smoothie counter and even a sushi counter in some stores. It could be a good fit – Boots has worked over the years to improve its food offer.
Boots sells a lunchtime range from Jamie Oliver, it launched ready meals through its Shapers brand last year and it has also previously piloted delis in some stores.
Separately, in January Walgreens vice-president of corporate operations Richard Ashworth took up a role at Boots UK as director of healthcare for the UK and Ireland. He works alongside Boots UK managing director Simon Roberts on the operations of the pharmacy business.
The move represented a swap between the two retailers – former Boots chief executive of beauty Alex Gourlay moved to Walgreens last year to take up the role of president of customer experience to drive the development of Walgreens' fledgling loyalty card programme, using his extensive experience of Boots' 18-year-old Advantage Card offer.
With less than a year to go until the merger window opens next year from March 2 to August 2, Pessina is confident everything will go smoothly because the two companies have already made a lot of progress with the integration. "[The merger] is already in the past, although it is an important part [of the process]. In the heads of many people the merger is already done," he says.
With such a frenzy of activity it seems as if Boots is on track to be king of the hill and top of the heap not just in New York but across the US.
The brands
No7 - Boots' flagship make-up and cosmetics brand includes its famous Protect and Perfect range, which was scientifically proven to have anti-ageing effects in 2007.
Extracts - Offers a large variety of fragrant beauty care products from body washes and bath creams to sugar scrubs and lip balms.
Expert - A specialised line developed to target specific skincare concerns at an affordable price point.
Botanics - A range inspired by plants. Boots worked with Kew Gardens to create the products for sensitive skin.
Indeed Laboratories - A range of products designed to address signs of ageing and the appearance of lines.
Champneys - Hailing from the Champneys spa chain, the range is focused on 'indulgent bathing' and includes creams and scrubs.
Mark Hill A hair care range from the well-known hair stylist.