There is widespread worry about the future of the UK's high streets. George MacDonald considers what needs to be done, and looks at why there is cause for optimism.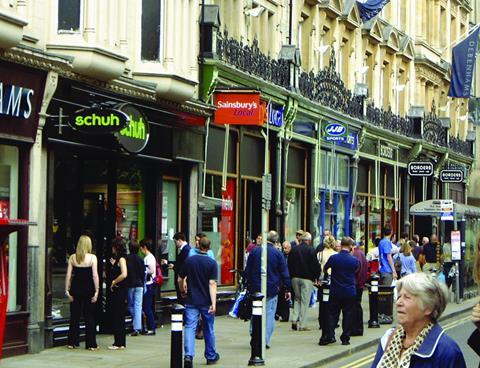 The candlestick makers have long disappeared from the high street. And these days it is not just the future of the remaining butchers and bakers that is cause for concern but the health of the entire high street – especially independent stores.
The change in shopping habits, such as the shift to out-of-town, have taken a toll, while tough trading conditions have exacerbated the sense that many high streets are in terminal decline.
This has prompted the Portas review, which is designed to restore them to ruder health and is expected to be released this month.
But despite headlines about the state of the high street that are frequently as downbeat as the most ravaged town centres, there are reasons to be optimistic about their prospects.
There are examples of high streets that tick the boxes. Readers participating in a lively discussion on Retail Week's LinkedIn group championed places as diverse as Whitstable, Ilkley, Glasgow's Buchanan Street, Brighton's Laines, Witney, Worcester and Hexham in Northumberland along with London 'village' locations such as Crouch End, Marylebone High Street and Islington's Chapel Market.
What is needed to create more such shopper honeypots – and initiatives are under way in much more challenging locations than some of those above – is the right business model, backed by a supportive policy framework.
Issues already highlighted by Portas include the need to deal with high levels of voids, addressing the plethora of charity shops that dominate some areas and making life easier generally for in-town retailers.
Retailers have, in fact, been concerned about such issues for some time and few have fought the corner of the high street more actively than Boots. Alex Gourlay, chief executive of Alliance Boots health and beauty division and Business in the Community (BITC) board member, is convinced that there is a bright future for the high street. His views are representative of many other retailers committed to town centres.
But a key factor in creating healthy high streets, says Gourlay, is actually something more intangible than a retail strategy or policies. "In terms of a great high street, it's about a really strong feeling of civic pride – that's the most important aspect," he maintains. That is partly down to local distinctiveness – common in the examples cited above, whether it may be a seaside location or a cathedral. "What makes high streets so unique is the localness you get – people identify with it," he says.
But that sense of local pride exists in less obvious locations too. BCSC chief executive Michael Green cites Skelmersdale and Rotherham as among the places where strides have been made to improve town centre retailing. Of the latter, he says: "They've taken a right hit but they're now seeing opportunities. They've spent a bit on the public realm, there's money for new retailers."
Levelling out the costs
But concrete changes are needed to enable civic ambition, boosting the commercial environment for retailers. Gourlay says: "Getting the costs of operating on the high street the same as operating out of town is really important – both the capital costs and the operating costs. At the moment they're not."
Rents remain one of his biggest concerns and Gourlay would like to see a "new rental model". He is optimistic progress can be made and says: "It probably means taking six to 12 high streets, with the landlords and retailers working together to work out a model." It is possible that such pilot schemes could emerge from the Portas review.
In the same way as closer relationships with landlords is necessary to promote perfect high streets, so is partnership with local authorities.
Green believes the private sector can bring commercial expertise and leadership that may otherwise be lacking, helping to bring transformation. Improvement, he says, is dependent on three things – willingness and ability to change, attitude and leadership.
That spirit of partnership has been evident in Maidstone, where BITC hosted an event promoting the high street of the future. The town has effectively bounced back despite the nearby presence of the Bluewater megamall. Gourlay says the all-important civic pride was a central driver of improvements to the town, that change was led by business and the local authority was a crucial partner.
"The multiples, from banks to leisure to retailers, got involved," explains Gourlay. He says that the participation of local business managers was vital and should be replicated elsewhere. "Everyone should encourage their local managers to get outside the front door and get involved," is his advice.
He hopes that a spirit of understanding and partnership will be evident as rates are renewed. Business rates rise each April based on the rate of RPI inflation the previous September – this September the figure was 5.6% and the cost to retail has been estimated at £350m. However, the link between RPI and rates is only a convention and Gourlay says: "At Government level, they've got to incentivise local authorities to set rates that people can afford to pay."
High streets of the future
Optimism remains that the perfect high street is not a thing of the past, although it may be very different in future. Green says that in some cases consideration should be given to shrinking shopping areas to a single high street with a lower level of voids rather than several with a high rate. Similarly, the high street mix may change through a greater focus on leisure and events that draw people in, backed by marketing and common sense on matters such as parking fees.
But the essentials of a happy high street will remain the same. Green says: "You need to ensure high streets are interesting, inviting, appealing and easy to get to."
Gourlay is certain the message on the high street is being heard and that Portas is "doing a really good job, listening and trying to bring out the right conclusions". He concludes: "Some high streets will be very different but some will be as vibrant as ever – providing we get the right policy and model."
Grocers and the high street
The big grocers are often blamed for creating monocultural high streets at best or sucking commerce out of town at worst. But supermarkets groups, such as Tesco and Sainsbury's, are expanding on the high street where many welcome their presence.
BCSC chief executive Michael Green says: "You need something to create footfall and it may be a Tesco Express or an M&S Simply Food. It brings healthy competition and stimulates vibrancy."
A Sainsbury's spokeswoman says the grocer has a vested interest in healthy high streets. 60% of its main stores are in town centre or edge-of-centre locations, and most of its Locals are in local high streets. "We believe that it's important for the high street to have a healthy mix of independents and larger retailers. We provide a reliable offer to our customers, which is why they come back – consistency of availability, price and service is key to customer satisfaction."
She adds: "Our customers and many local traders have realised that the unique characteristics of their high streets can be preserved and even enhanced with the opening of a Sainsbury's Local." She says this has been most recently demonstrated in Herne Hill, south London, where independent traders have experienced an increase in overall footfall since the opening of its store.
The view from Rochdale
Paul Turner-Mitchell, co-owner, 25 Ten Boutique
"What kind of stimulus measures would help the high street? Reduced business rates, more free parking – in Rochdale we have free parking all-day Saturday and Sundays with parking free after 3pm throughout the week – and a creativity fund for events and marketing initiatives to encourage people back into town centres would be a good start.
"I have seen my business's rateable value increase by 61% in the past year. Town centre businesses in Rochdale have had to stomach an average increase of 25%. That many of those businesses are lodging challenges is hardly surprising. But the Valuation Office Agency is taking so long to process challenges that businesses are folding while waiting for the outcome.
"Figures provided by the Valuation Office Agency show that in the last financial year it had cleared less than 4% of all challenges across Greater Manchester. More than 12,000 businesses that challenged their revaluation are still waiting for the outcome. And they are right to make a challenge. In last year's Valuation Office Agency annual report it admitted that 43% of appeals were successful.
"But as long as the Valuation Office Agency drags its feet then the threat of insolvency will hang over many small businesses. Why are appeals taking so long?
It might have something to do with the fact that the Valuation Office Agency has suffered major staff cuts. The combination of a snail's pace appeals process and revaluation figures that simply do not reflect what is happening locally is a massive hindrance to business.
"Upon entering Downing Street our Prime Minister promised to tear down barriers to enterprise. This is something we all want. But it won't happen unless he deals with the obstruction to business that is the Valuation Office Agency."