Beauty specialist Lush has suspended online sales after hackers broke into its site, jeopardising customers' financial data.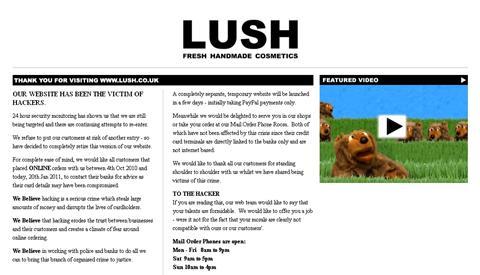 Lush has contacted potentially affected customers advising them to speak to their banks for advice "as their card details may have been compromised".
The retailer said: "Our website has been the victim of hackers. 24-hour security monitoring has shown us that we are still being targeted and there are continuing attempts to re-enter.
"We refuse to put our customers at risk of another entry so have decided to completely retire this version of our website."
The retailer will launch a temporary website in the next few days which will initially only accept PayPal payments.
Lush's site carries a message to the hackers which says: "Our web team would like to say that your talents are formidable. We would like to offer you a job – were it not for the fact that your morals are clearly not compatible with ours or our customers'."
Customers have come out in support of Lush posting hundreds of comments on the company's Facebook page.