The former PE teacher is in no doubt about the weight of responsibility he bears in restoring much-loved toy retailer Hamleys to its former glory. Can he succeed, asks Nicola Harrison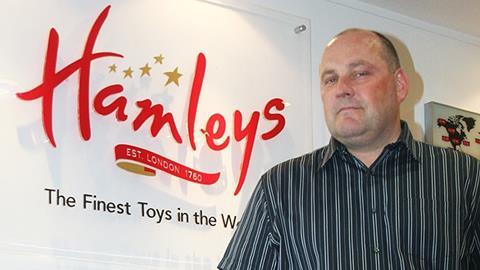 Gudjon Reynisson feels an acute sense of responsibility. The Icelandic chief executive of iconic toy store Hamleys realises he is presiding over one of the most treasured gems of UK retailing – and he realises he faces a big challenge.
Before he took the job in May last year, Reynisson, who was unknown in British retailing, did not realise "how strong the Hamleys brand is in the hearts and minds of the British people".
Now, he says: "It's such an honour being chief executive but it is also a big responsibility, and I feel that."
When approached by Hamleys' then owner – the collapsed Icelandic investment vehicle Baugur – to run the toy retailer, Reynisson leapt at the chance, much to the joy of his seven-year-old son. "Obviously I couldn't turn it down," he says.
He joined from Icelandic convenience store chain 10-11 – also owned by Baugur – where he effected a turnaround of the business that resulted in a tripling of profits and a doubling of turnover.
Taking on the new job meant uprooting his wife and three children from his native Iceland to the UK. But he says they have all enjoyed the change. "Living in London is such a privilege," he says. "It's a magnificent place to live. I regard myself as a Londoner."
However, there are some things that he misses about his homeland. "What I love about Iceland is the outdoors and nature, it's really special," he enthuses. "It's likely that one day I will return but no thoughts are on that now."
Rather, his thoughts are on turning around Hamleys, which, like an old but much-loved toy, has started to look a little dog-eared in recent years.
Net losses spiralled from £2.7m to £7.1m in the year to March 31. But Reynisson, who describes himself as being on the one hand "very easy going" and on the other "very, very competitive", is convinced he can mend the business.
"We're focused on getting the company in the right shape," he says. "We will take care of the brand and grow the company."
Retail Knowledge Bank senior partner Robert Clark says any turnaround would be "quite a task". "Reynisson is walking a tightrope, and it's easy to fall off," says Clark.
In his 16 months at the retailer, Reynisson has overseen a painful restructure that resulted in a third of head office staff being made redundant. That was tough, but he knew it would be part of the challenge.
But it was challenge that he craved when he decided to quit PE teaching – his first job. "I absolutely loved teaching, but I was ambitious and wanted more," he recalls.
So Reynisson entered the world of Icelandic retail, working at books retailer Idunn Publishing as sales and marketing manager, then as sales director at Vodafone Iceland.
How does retailing in Iceland – which has a population of 330,000 – compare with British retailing? "The sheer size of the market is a big difference," he says. "But there are more similarities than
differences. It's customer facing – which is the same all over."
Reynisson would argue that there are few similarities between Hamleys, which celebrates its 250th anniversary next year, and rival UK retailers, due to its in-store theatrics.
And some of that has rubbed off on him. "Hamleys is about enjoying yourself," he says. "I've realised it is OK to goof around and not take yourself too seriously sometimes."
The team may be having fun, but it also knows how to get down to business. After all, says Reynisson: "We're only trusted with this brand for a limited time and the brand is much bigger than we are. It is owned by the British people."
A Brit in spirit
Lives Surrey
Hobbies playing golf with his wife and five-a-side football every Saturday morning
Interests supports Liverpool
On toys describes himself as very much a "toy fan" and particularly likes Action Man
Favourite retailerZara – "it really knows what it stands for"
Greatest inspiration "My father – he taught me the importance of integrity"