Today two retail powerhouses, Tesco and Dixons Carphone, struck up a new deal that looks set to be mutually beneficial.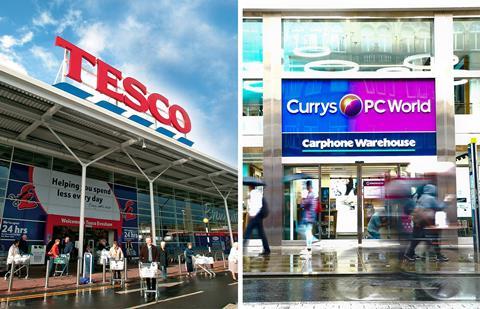 The respective grocery and electricals market leaders have joined forces to trial CurrysPC World concessions in Tesco's largest supermarkets.
The pilot will kick off this summer at Tesco's Milton Keynes and Weston Favell Extra stores, with a view to rolling out further if the concessions are a hit.
But why has Tesco done this now, and will it spark success?
Anything you can do…
Albeit on a smaller scale, there are significant parallels between Tesco's new partnership and Sainsbury's acquisition of Argos last year.
For Sainsbury's, the Argos merger has borne fruit from the outset, with bumper festive sales at Argos propping up its core food business in its last financial year.
But, there seems to be more to Tesco's latest move than hurriedly following in the footsteps of its biggest rival.
According to Shore Capital head of research Clive Black, the fact Sainsbury's bought Argos is "almost immaterial," as Tesco would be doing this anyway to "solve its problem with asset utilisation in its Extra stores".
Although Sainsbury's introduction of Argos and Habitat concessions is the most obvious example, all of the big grocers are acting to make better use of excess space in their large sheds.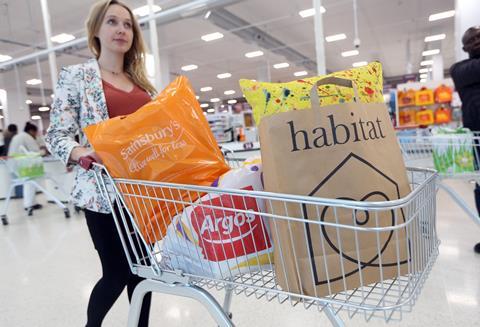 Morrisons is establishing a range of useful in-store services such as Timpson, Amazon lockers, and Doddle pick-up points to give shoppers more reasons to visit, and Asda has rolled out Decathlon shop-in-shops.
Tesco too has existing partnerships with the likes of Arcadia and Holland and Barrett. Within this context, therefore, the Dixons Carphone tie-up could be viewed as an extension of an existing and logical strategy.
"It's a very consistent development with where Tesco has been going for some time," Black says.
"There was a clear recognition that through the rise of the internet and a lack of follow-through by the superstore groups in non-food, that a lot of Tesco's Extra estate was oversized.
"Tesco has been working with a number of partners in the UK and further afield for some time, so working with Dixons makes eminent sense, not least because the electricals category is where there has been a material retrenchment by Tesco and its rivals."
What else is in it for Tesco?
According to Black, the move utilises Tesco's assets, improves the destination nature of the hypermarket and deals with Tesco's general merchandising problem.
"In terms of Dixons Carphone and Tesco, you are looking at a pretty much hand-in-hand core customer overlap"

Clive Black, Shore Capital
He says the addition of "authoritative" Currys PC World outlets with included services will improve Tesco's general merchandise offer and help its big sheds with "destination status".
Additionally, Tesco will be gaining a rental stream from its new partner, with which Black believes there is a shared customer base.
"In terms of Dixons Carphone and Tesco, you are looking at a pretty much hand-in-hand core customer overlap," Black says, arguing that, from his point of view, Argos and Sainsbury's wasn't quite a "marriage made in heaven".
What's in it for Dixons Carphone?
The benefits are not one-sided. Dixons Carphone looks set to benefit too by reaching a new customer base.
As the two 80,000 sq ft Tesco Extra stores each generate a footfall count of around 50,000 customers per week, the retailer should be able to capture additional sales.
Significantly, as the new outlets will feature the retailer's laptop repair, advice and comparison services, it will also further flaunt Dixons Carphone's growing services proposition.
According to Liberum analyst Adam Tomlinson, it's good timing for Dixons Carphone too.
He says it allows the retailer – which has been rationalising its estate over the past year, creating 3-in-1 Currys PC World Carphone Warehouse stores – to "selectively open new space at a low cost".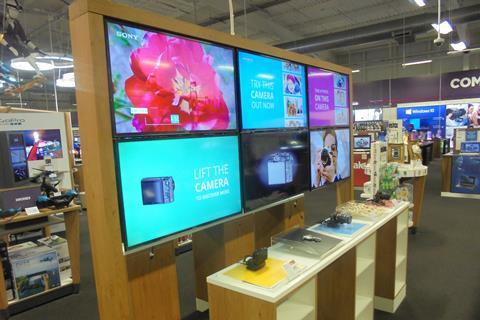 "For Dixons, it means they could improve geographical coverage, make incremental sales and raise awareness of its services proposition without having to fork out for another superstore," he explains.
Where's the catch?
There are a few potential downsides to the tie-up, including the potential cannibalisation of Tesco's own electricals offer.
However, as Tomlinson points out, the tailored Currys PC World range could, in fact, fill in the gaps in Tesco's offer. For example, Currys PC World has a far more extensive accessories offer.
For Black, a concern is the danger of Dixons Carphone cannibalising sales in its own stores.
"I think they will have to be quite selective about where they position outlets. If it is a largely incremental customer that Dixons Carphone thinks they can get a hold of, then in time it could make sense," he says.
A winning combination?
While the concessions will be trialled for a year before any commitment to expand it is made, both Black and Tomlinson acknowledge the potential for growth.
"The fact that Dixons has been through a big store rationalisation programme means they will remain disciplined"

Adam Tomlinson, Liberum
However, they agree it is unlikely to match the scale of the Sainsbury's and Argos merger.
Tomlinson says Dixons Carphone is unlikely to want a concession in every Tesco store across the country: "For me, the fact that Dixons has been through a big store rationalisation programme means they will remain disciplined and only look to open new space where they can achieve a good return on investment."
"I don't think we should go overboard about expecting too much, too soon from it," Black concludes.
The two high street behemoths will be wise to proceed with caution to prevent the risk of a short circuit.