Walmart International's boss has said the new opportunities presented by AI and robotics will be huge for retailers, but warned they must be shared fairly with staff.
Delivering the opening keynote speech at Retail Week Live 2019 this morning, Judith McKenna said the future of the global workforce would be hugely affected in the coming decade by the advances of AI and automation.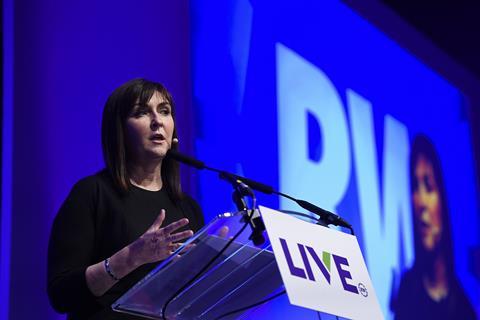 She said in order to avoid the "societal risks" of leaving people behind in the next technological revolution, retailers must ensure the benefits of AI and automation are "shared as quickly, fully and fairly as possible" with staff.
McKenna said "millions of jobs" would be affected and there was no sense in retailers "turning the other way and pretending it's not happening".
She added that Walmart was "looking at automation head on" and, as a result, had seen an increase in turnover and sales – as well as happier staff.
She said: "At Walmart, we're looking at automation head on. We're seeing benefits in some very unexpected ways – we're increasing our turnover and our sales, we're operating more efficiently but we're also seeing a reduction in turnover in jobs that are hard to fill and retain.
"One of the things that's made the biggest difference is that automation is freeing our associates up to do what they love, enjoy and what our customers ask for, which is the freedom to sell and to serve.
"So, as an organisation we're learning that we don't have to make a choice between doing good for the business and for our people as well."
She also said technology should create the opportunities for retailers "to run better businesses, to create economic growth and also to improve the quality of life for many".
UK grocery market 'most competitive in the world'
Commenting on the Competition and Market Authority's finidings on the proposed Sainsbury's-Asda merger, McKenna said the UK grocery market was the most competitive in the world and insisted the tie-up would lower prices for consumers if completed.
"[The UK] is the most competitive market in the world, anybody who doesn't find ways to reduce prices to increase volumes and growth is, frankly, playing the wrong game," she said.
She said she was concerned people thought the thinking behind the deal was not driven by a desire to lower prices.
"The premise of transaction was that we should reduce prices, that's in our DNA. What we find concerning is people don't believe we would do that," McKenna added.