"Just how does the Queens' grocer respond to an economic downturn," mused Mark Price, writing in Retail Week back in March 2009. "Well, no retailer can ever afford to stand still."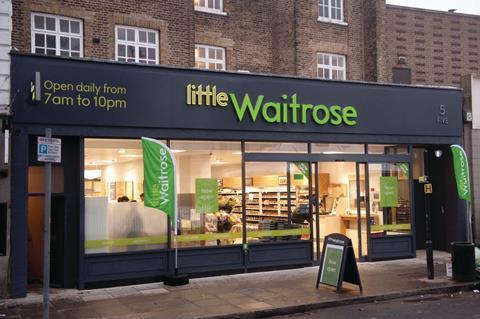 Since taking over the reins in April 2007, Waitrose has done anything but stand still thanks to Price's mission to offer customers the best value, service and quality.
Waitrose's footprint has more than doubled in size as Price and his team worked to bring access to people who wanted to shop at the chain but couldn't.
In April 2007, the group had 183 shops, primarily in the south of England. However that has risen to 380 stores today, including at motorway service stations and on petrol station forecourts as well as in the Channels Islands and the Middle East.
This has been reinforced by the launch and expansion of the Little Waitrose convenience format, which now has 62 stores across the country.
The online business meanwhile has grown by an average of 48% each year since 2008 as Waitrose Deliver became waitrose.com, and five specialist websites, including Waitrose Cellar and Waitrose Florist, were also launched.
Sales jumped
Gross sales over Price's tenure have rise by 65% from £3.95bn in April 2007 to £6.51bn in March this year. Its market share has increased from 4% that year to 5.2%. Price is keen to point out it has defied its critics and doubters, some of whom predicted the retailer would be one of the recession's major casualties as customers began to trade down.
Driving customer loyalty has been key to growing that share with product innovation playing a big role, including the launch of Waitrose's first value brand, Essentials, in March 2009. Although Price was always keen to point out this was not value on the same lines at Asda Smartprice or Tesco Value.
Instead, the range, which included 1,400 products at launch but has since expanded to more than 2,000, is focused on "affordable, everyday food and non food lines priced offer the very best value". It hit the £1bn sales mark by March 2013.
Heston from Waitrose
Price also sought to delight Waitrose's foodie customers with something a bit different through its Heston from Waitrose range, launched in 2010, and including last Christmas's sell-out "hidden orange" pudding – some of which, the retailer claims, turned up on eBay.
Meanwhile, it snaffled Prince Charles' Duchy Originals organic food range from under its competitors' noses, doing an exclusive deal in September 2009 that saw the range removed from Waitrose's major grocery competitors.
Perhaps one of Price's more controversial schemes – certainly in the eyes of retail commentators – is the free hot drink scheme, part of the myWaitrose loyalty scheme launched in 2011.
When the chain suffered a difficult July in 2014, observers in some quarters were quick to link its struggling first half revenues with the 1 million hot drinks it gives away every week. While the retailer refuted this, it was forced to tweak the deal to ensure customers with freebies did not hog tables at its in-store cafes.
For Price, myWaitrose, which now has 5.7 million members, is about rewarding brand loyalty, not just with free coffee and newspapers, but by offering them deals on products that are relevant to them.
He took this ethos to its natural next step this summer by making offers even more relevant to customers by letting them decide for themselves with the launch of Pick You Own Offers.
The scheme allows members to select 10 items they would like to save 20% on every time they shop. Choices are made from a list of 1,000 own label and branded goods, with more expected to be added later. To date, 850,000 my Waitrose members have signed up.
At the launch of the scheme, described as a world first, Price admitted it is "a gamble" and could cost the retailer up to £5m a week or more. But, as Price point out himself, many of the strategies he has implemented – Essentials, free drinks – have also been gambles and, as the sun sets on the Price era at Waitrose, it would appear to date they have paid off.