Upmarket grocer to phase out health giant's products and replace with own-brand.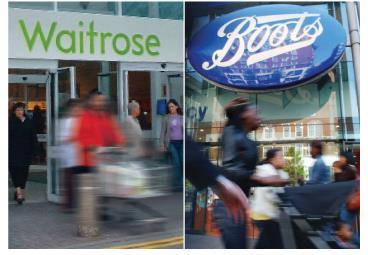 Waitrose and Alliance Boots have scaled back a partnership to sell each other's goods in their stores.
The tie-up, launched in March 2010, was seen at the time as an opportunity for the grocer and the health and beauty giant to bolster their offers and compete more fiercely against the big four supermarkets.
However, Waitrose is to stop selling the Boots lines. A Waitrose spokeswoman said: "The Boots health and toiletries trial currently running in 13 Waitrose stores will be phased out from January 2012.
"It didn't meet the expectations of either partner. But that's the whole point of having a trial – to learn what works. The products will be replaced by Waitrose own-label or branded products."
An Alliance Boots spokeswoman said, however, that it would carry on selling Waitrose food lines, such as sandwiches and snacks, which are offered in about 34 stores. "The food trials are continuing as planned," she said.
Boots products sold in Waitrose include items from its No7 skincare and cosmetics brand. The health and beauty powerhouse successfully sells its products through a range of other retailers internationally, such as US giant Target.
When the link-up with Boots was originally unveiled, Alliance Boots health and beauty chief executive Alex Gourlay said: "We view the introduction of the Boots pharmacy brand into Waitrose stores as an important first step in developing a wider partnership with Waitrose to enhance the customer offering in both businesses."
However, some Waitrose customers reacted with disapproval to the link and complained about no longer being able to buy some of the Waitrose products they wanted.
Oriel Securities analyst Jonathan Pritchard observed: "Waitrose's offer is pretty strong in its own right so the requirement for this is limited."
The changed arrangements for selling one another's lines will not affect their pharmacy partnership. Boots runs pharmacies in 13 Waitrose stores, which were rebranded to Boots Pharmacy in 2009.
Both Boots and Waitrose were among the retail winners over Christmas. Alliance Boots executive chairman Stefano Pessina said the UK retail business had a "particularly good" festive period – like-or-likes advanced 4.1% in the five weeks to December 31 thanks to tight controls on costs and an improving multichannel offer.
Waitrose also enjoyed what managing director Mark Price described as a "very strong" festive period, reporting a like-for-like sales rise of 3.8% and total sales rose 9.5% for the month of December.