Asda has released a new TV advert and price promotion focused on today's Budget as it looks to highlight pressure on consumer spending.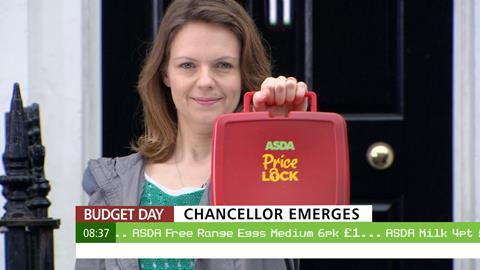 The advertisement, which will feature during the breaks in ITV's coverage of the Chancellor's Budget, mimics the iconic scenes traditionally seen outside 11 Downing Street with an Asda shopper, dubbed "Chancellor of the Checkout", holding a red lunch box in one hand.
The advert will promote the grocer's new Price Lock promotion which promises to keep the price of staples including milk and eggs at £1 to support cash-strapped customers. The grocer has invested £100m over the last seven months in keeping the price of staples low.
The advert will run for two days and will then be replaced by a wider Price Lock advert in April.
Asda chief marketing officer Stephen Smith said: "Mums are telling us that they're worried about the spiralling cost of living and could use our help. They want to see consistency across the essentials their families need most, giving them the reassurance, day in day out, that by the time they reach the checkout, there are no nasty surprises.
"Although the ad is tongue-in-cheek, playing on the iconic red Budget box image, at the heart of the advert and Price Lock campaign is a very serious message."
He adds: "As the UK wakes up to a sense of uncertainty ahead of today's Budget, I hope that with our latest campaign, we can give mums a little certainty at a time when their budgets are being stretched to the limit."