Tesco is tapping into growing demand for diet-related foods with personalised eating plans and a new healthy food range.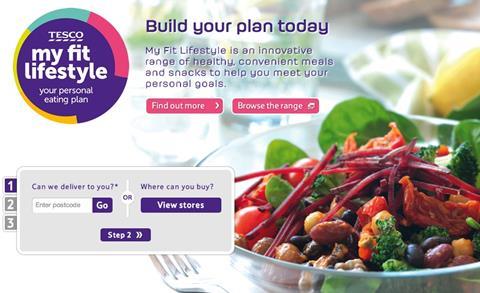 Why are we talking about this now?
Tesco has revealed that it is to expand its healthy foods offer with the launch of personalised eating plans and a new food range called My Fit Lifestyle.
The range will initially be available in 50 stores in London, which will feature My Fit Lifestyle zones with products colour-coded according to five different calorie bands. Tesco said this will allow customers to easily see which products fit their personal plans.
Customers will be encouraged to sign up to the My Fit Lifestyle eating plan on Tesco.com, where they can list their goals and receive a plan to match, and choose meals to fit with their plan.
Products in the range include Moroccan chicken wholemeal flatbread, a Mediterranean graze box and all day breakfast bacon.
What are other retailers doing?
Walk into any food retailer such as Asda and Morrisons and you're sure to find rows of products bearing labels with the terms such as low-fat, diet and no-added sugar.
Marks & Spencer offers a wide range of products targeting customers following a healthy diet, such as its Count on Us range featuring products with less than 3% fat. Last year the retailer launched a new healthy eating range called Delicious & Nutritious, featuring 11 ready meals and lunch options inspired by Middle Eastern flavours.
Recently retailers have stepped up their activities, launching new categories and new styles of dishes. In March last year Boots launched its first range of healthy evening meals under its Shapers brand, serving up dishes such as chicken tikka masala, paella and Thai chicken curry.
Alliance Boots health and beauty chief executive Alex Gourlay said at the time: "We know our customers want to feel good about what they eat and do not want to compromise between eating healthily or conveniently."
Meanwhile, Boots rival Superdrug offers slimming products and has an exclusive tie-up with LighterLife along with selling Slimfast and Celebrity Slim.
Why are retailers targeting healthy food?
More than six out of 10 adults overweight or obese, said Mintel, and dieting has become ingrained into many Britons' lifestyles. The majority of adults (65% of women and 44% of men) have tried to lose weight in the 12 months to September 2013, also according to Mintel, leading to many people turning to diets and buying products offering lower calories or less fat.
Brands such as Weight Watchers and Slimfast, which offer liquid replacement meals, highlight the success of the diet industry.
However, the outlook for the diet and weight-control food market over the next few years appears to be challenging.
"Despite the swathes of consumers keen to lose weight the market is plagued by a string of negative perceptions, perhaps the most damaging of these being concerns over the ingredients/artificial sweeteners they contain," Emma Clifford, senior food and drink analyst at Mintel says in a report published last year. "While this widespread distrust lingers, the market is unlikely to reap the rewards from the growth in consumer spending."
What is the value of the market?
The value of the diet and weight control foods market increased by 7% to £1.7bn between 2008 and 2013, according to Mintel. The research company said that was driven by rising prices and corresponds to a decline of 14% at constant 2013 prices.