Tesco's South Korean business, Homeplus, has drawn offers from as many as eight preliminary bidders, according to reports.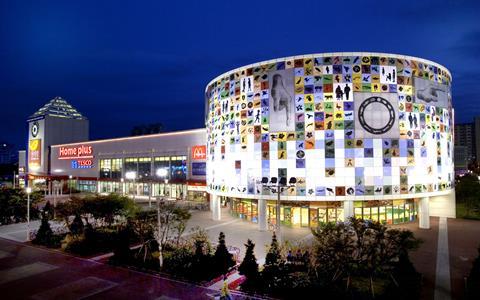 Eight firms submit preliminary bids for Tesco's South Korean business
Tesco seeking a sell-off as Dave Lewis focuses on core UK grocery business
South Korea is Tesco's biggest market outside UK, with turnover of £4.1bn last year
The business, which has been valued at £4bn, has attracted interest from private equity firms Affinity Equity Partners, Goldman Sachs Principal Investment Area and Carlyle Group. All are understood to have submitted letters of intent ahead of yesterday's deadline.
CVC Capital Partners, local buyout fund MBK Partners, TPG and South Korean snack maker Orion are also among the preliminary bidders, according to the Financial Times.
Earlier this month it was reported that Tesco had invited six firms to submit bids for the business.
Tesco boss Dave Lewis is seeking to offload the supermarket giant's South Korean arm as it focuses on its core UK grocery business. The supermarket has already sold off its Blinkbox entertainment business and is in the process of selling its data company, Dunnhumby, which launched the Clubcard loyalty scheme.
The sale of the Homeplus business, which is being handled by HSBC, could become Asia's largest-ever private equity deal.
South Korea has nearly 500 hypermarkets for a population of 50 million.
Tesco entered the market in 1999 through a partnership with Samsung Corp, now known as Samsung C&T. It remains Tesco's biggest international market, accounting for around 9% of group sales. It had an annual turnover of KRW7.05 trillion (£4.1bn) in 2014 from more than 400 stores and 500 franchise shops serving over 6 million customers a week.
Foreign rivals including Carrefour and US retail giant Walmart both withdrew from the country in 2006.