Tesco's low-price message has so far failed to resonate with shoppers, 45% of whom believe the grocer's prices have in fact risen over the past year.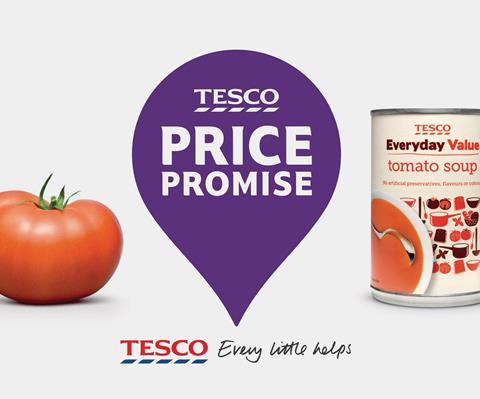 The findings, from an exclusive ICM poll for Retail Week, pile further pressure on Tesco chief executive Philip Clarke, whose strategy has been called into question in recent weeks.
Tesco was expected to reveal another fall in full-year profits tomorrow. Ferocious price competition in the sector is thought to have played a key role in the grocer's flagging performance.
Clarke said two years ago that he would put price at the heart of its turnaround, and unveiled a strategy to invest in better pricing as part of its plan to revive the UK business. Since then the whole food sector has been using promotions and various price guarantees as they scrap over value.
But the big four grocers have struggled to keep up with the relentless march of hard discounters Aldi and Lidl on price. The latest Kantar figures for the 12 weeks to March 30 showed Aldi achieved its highest ever sales growth of 35.3% while all the big four grocers reported declining sales.
Clarke pledged to invest £200m earlier this year into lowering prices of essential items such as bread and milk, while punch-drunk rival Morrisons said it would invest £1bn, and Asda committed £300m. Tesco also stated it would be flexible on its margins to allow it to take action if the conditions dictated.
Bernstein senior analyst Bruno Monteyne said Tesco has failed to distinguish itself from rivals since declaring an end to the space race. "By raising prices faster than anybody else, Tesco has lost its differentiation, giving a free ride to the targeted retailers at both ends of the spectrum, value and quality," he said.
He argued that Tesco's strategy is pushing the business in the wrong direction – upmarket.
A Tesco spokesman said: "We are investing more than £200m in price at a time when hardworking families need help the most. Prices have come down and will stay down on many of the products customers buy most often, by nearly a quarter on average so far. Our Price Promise also gives customers even more confidence that they will never lose out on price at Tesco."
The ICM poll, carried out last weekend, also found 43% of consumers thought prices had stayed the same over the last year at Tesco, while 13% believed they had fallen.