The embattled supermarket giant will update the market with its third quarter and Christmas trading on Thursday. We outline what it is expected to reveal.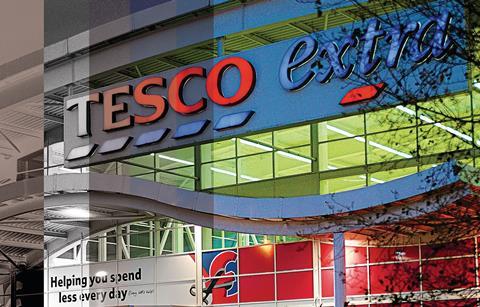 Improved trading over the crucial Christmas trading period
HSBC expects Tesco to report a 5% fall in like-for-likes for the third quarter of the year, however, there's likely to be signs of improved trading over the more recent Christmas trading period.
David McCarthy, head of European consumer retail research at HSBC, predicts a 2.5% drop in like-for-likes for the six-week period, adding that Tesco "will have benefitted from extra staff in-store and better pricing".
He says: "If we are right, then this would represent a step change in momentum, which should continue throughout 2015 as management builds on early successes and faces easier comps."
Bernstein Research has forecast a 3.2% decline in like-for-likes over the festive period.
Plans to become more competitive
"This will be no ordinary trading update," says Bruno Monteyne, senior analyst at Bernstein Research, referring to the fact Tesco's invitation for the analyst call splits out the areas management intend to discuss.
Monteyne believes that Tesco's lack of price competitiveness is the main source of lost customers and expects chief executive Dave Lewis to invest in this area.
"This will be no ordinary trading update"

Bruno Monteyne, Bernstein Research
Asda and Sainsbury's have both launched new price offensives this week and Tesco is expected to follow suit.
However, Monteyne expects Lewis to keep his cards firmly on his chest regarding how he might battle against its rivals on price; instead the former FMCG man is expected to highlight what actions they've taken so far to offer cheaper products to customers.
On making the business more profitable, Monteyne expects loss-making units to close, a reduction in staff levels – head office rather than stores – and the closure of "unnecessary" head offices, of which it has 32.
A transparent view on UK profits
Tesco's accounting scandal was the retail story of last year and while Lewis has made radical changes, including the ousting of senior members of the team, it's thought that on Thursday the retailer could present a clearer view of its profits.
"We are expecting a full and precise explanation and reconciliation of the UK trading profit," says Cantor Fitzgerald retail analyst Mike Dennis.
"In our view, the explanations so far from Dave Lewis, Tesco CEO, and Alan Stewart, Tesco FD, have not been precise. We believe the UK margin issue needs to be satisfactorily explained before we can judge the new CEO on the plans for a UK recovery."
Dennis also hopes for further clarification on the suspension of its three category directors.
"The other point to consider is why did only three category directors Dan Jago, Sean McCurley and William Linnane, in charge of wine, beer and spirits, convenience foods and Impulse foods respectively, get suspended.
"Our understanding was that supplier monies were being brought forward across all the categories, including health and beauty, bakery, household and fresh produce. The H2 timing discrepancies and the lack of detail on specific category issues, in our view, need further explaining by Tesco management if investors are to be comfortable with the supplier income accounting."
Unveiling of cost-cutting measures
Monteyne predicts the retailer could indicate which assets it might dispose of, together with details on the process and time scales.
He believes that Tesco's lack of synergy with Dunnhumby, Tesco Bank and Blinkbox makes them prime candidates for partial or full disposals.
"We believe that Tesco has enough levers to pull that it can avoid a rights issue"

Bruno Monteyne, Bernstein Research
The analyst also believes that a rights issue could also be on the agenda for the future.
"In our view a rights issue only becomes necessary if they cannot get where they want to with asset disposals and improved cash discipline.
"We believe that Tesco has enough levers to pull that it can avoid a rights issue, but if these levers get stuck (asset prices do not meet expectations or UK profitability cannot be restored) we cannot rule one out for ever."
Clive Black, research director at Shore Capital, says given the balance sheet needs of Tesco, it's likely there will be no dividend for shareholders this year.
Plan to win back customer trust
Still hurting from the accounting scandal, horsegate and confusion over its price changes, the retailer still needs to win back the trust of its customers and analysts expect the retailer to highlight how it intends to do this on Thursday.
On the supplier front, Clive Black, research director at Shore Capital, says that while Tesco has taken tough decisions to help simplify its supply chain relationships, it expects more to come in "deconstructing a horrendously complex in-house construct".
Monteyne also hopes that Tesco looks to rebuild its trust from the investor community, citing that the grocer could do this by revealing new reporting standards, a new chairman to replace Sir Richard Broadbent and details of a substantial property write down.
Potential closure of defined benefit pension scheme
With 350,000 members, including 203,000 active members of the staff, Tesco's pension scheme is one of the biggest in the country – and it's costly.
Recent reports suggest that Lewis is considering closing the pension to new members in a bid to improve the company's balance sheet.
Update on in-store changes
Before Christmas, Lewis said that he was investing in more staff in stores, alongside better availability and prices to win back customers. He said while the changes had only just been implemented, he was "quietly optimistic" about early results.
With a few more weeks under his belt, he is expected to expand on these results on Thursday.